This blog post targets people dealing with business to business market. So, may be a little bit technical for those who don't belong to that field but still you will get proper knowledge.
Demand in B2B Sectors:
The main aim of demand generation in B2B sectors is to create more demand for any particular product or solution. However, it is not just lead generation; it also contains conversations and activities that take place before the actual purchase has been made.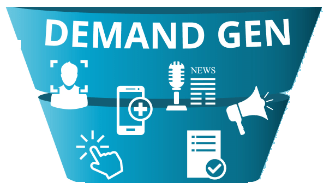 And this conversation is very useful for SEO Professionals. Hence, they must be involved when the conversation is going on because this will help them to find the ways to get more of organic traffic as more traffic can help you to get more customers i.e. conversion rates.
The organic search traffic shows the key channel for demand generation in order to influence performance irrespective of customer's role in buying cycle. There are some of the situations where SEO Performance is ignored by marketers and these are as follows:
Landing Pages on Sub domains
Campaigns based on Time
Conferences and Events
Let's understand these situations in detail:
Landing Pages on Sub Domains: One of the common oversights is demand generation landing pages which are available on sub domains of the website. These assets can actually work for those marketers who are interested in maximizing their conversion rates.These offer little or very less value to organic search performance as these are not from the main website; they are just a part of it. During an ideal situation; the landing pages must be available on the main website.

But sometimes when it comes to lead generation and conversion optimization objectives; these may not be possible. So, during such times SEO Professionals should identify a time frame when landing pages can be altered from demand generation location to any particular location on the main website.

For this, marketing automation solutions are easily available. This is very useful for marketers as it helps them to get more leads and also have deep impact on organic keyword visibility.

Moreover, certain best SEO Practices must also be applied like as keyword strategy, tagging, cross linking and more. Always remember to use 301 redirect which shows that the original landing page is shifted to the new destination.

Check the entire website and remove every broken link that is pointing to the retired landing pages which were not transitioned.

Campaigns based on Time: Certain campaigns are strictly based on time and so here demand generation marketers tend to avoid SEO. Yes, sometimes campaigns are not much affected by SEO but at times these are developed with very strict deadlines.It is necessary for people to consider opportunities to follow up these campaigns with required content marketing assets. Also, publisher information from various links can be collected during the initiative.

Such contacts can be utilized for follow up communications and must be outreached when related material is developed in future.

Various events and conferences: For demand generation team; events like as trade show booth participation as well as other marketing related initiatives can be really annoying tasks.The success of such events depends on huge financial investment as well as personal time. SEO is the thing that comes at the end of everything in the minds of demand generation marketers. This sometimes tends to be a missed opportunity for SEO teams as not to get involved.

How if the events are combined with SEO oriented marketing initiative. Here, we have some ideas that can be considered:
Events with SEO Centric marketing initiative:
Interviews conducted with sales person so as to understand customer pain points in a proper manner as well as areas of content marketing that lack development in online marketing.
Interviews taken with industry partners and organizations developed to create content marketing programmes both on site as well as via third party contribution by ways of link building.
Interacting with industry professionals those who are active on social media platforms. Events serve as a great way to get connected in real life and develop more direct connections.
The involvement of any SEO Professional in event marketing offers a better way to easily understand the entire method of sales beginning from industry level and get the direct knowledge of competitive offerings as well as positioning.
So, we can say that when it comes to B2B marketing; demand generation is a very captious component and all SEO Professionals must get involved in themselves so as to be aware about all aspects of demand generation process. This will help to properly combine SEO tactics in order to improve overall marketing performance.
Wind Up:
Hope this blog post is useful to all who are interested to know about technical SEO aspects and this is one of them. Are you aware of any of these SEO tactics then do share those with us. If you wish to know more about various SEO aspects from different point of view like as B2B, B2C then keep visiting our blogs Section.
For more such updates, stay tuned with Platinum SEO that offers services at lower SEO Melbourne Prices.