2015 passed rapidly and now only two months left to say Goodbye to this year. New year will approach soon and again marketing teams will be busy in creating new plans and strategies to achieve goals.
But, digital marketing will still remain on the top in this New Year as well. Well, before planning strategies; it is necessary to have an overview about the upcoming digital marketing trends. Here, in this blog post; we will discuss about these trends in detail.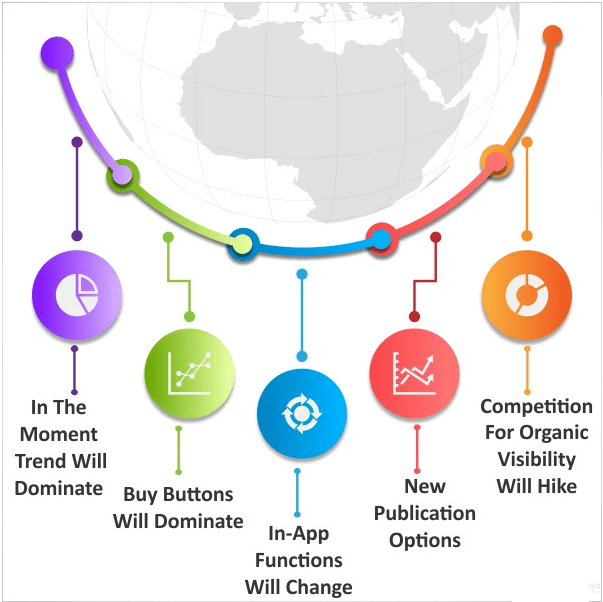 These are just predictions. The actual trends may vary. So, let's begin:
Digital Marketing Trends in 2016 based on Predictions:
Increase in use of video: Those who are aware about latest tech updates; must be aware about the increased usage of video nowadays. With the onset of 2016, this will be widely used and will become more popular.It will be included as a standard feature in most of the mobile devices. People will prefer to use more video content on Smart Phones and tablets. Hence, digital marketers must take advantage of this thing and make most use of video production so that consumers can be easily benefitted from it.
Experience: Experimental marketing is now mostly dead. Brands are now focusing more on creating pop up shops as well as new in person events where the products that customers wish to purchase will be added directly so that they can purchase it easily.In 2016, marketers will mostly use experimental campaigns with appropriate hash tags as well as proper video content and running contests via digital medium in real time.
Always stay available in social media: Among various social channels; Snapchat is the most popular one and it is slowly gaining more popularity, marketers make most use of it for events and campaigns. In 2016. Snap chat will become a standard marketing platform.Live streaming social apps like as Periscope will be used to spread the message regarding events to prospective customers who are not in the same state or same country.
Make most use of Gaming as a Marketing Space: Most of the games are most popular and marketers have the ability to place the products perfectly in the middle of blockbuster games in such a way that these are easily visible.Mobile gaming is also one of the useful trends and will serve as a top place for digital marketers so that they can easily place their ads and video content.
Taking mobile risks: These days mobile marketing is widely used. Every application is considered to be new outlet for marketing content and these include dating apps as well. Now, brands are slowly taking advantage of the same.Digital marketers must heavily focus on mobile devices and think about several ways to use marketing materials in one or the other way in the regular usage of smart phones as well as tablets.
Boost in usage of wearable technology: In 2016; wearable technology will have adoption rate of 28%. This means lots of data will be available for marketers to search from. Today, businesses solely rely on intuitiveness and effectiveness of Facebook and Google Ads.These will be able target to customers by their actions. In the initial phase; only native advertisements will be shown on wearable devices and it will affect every possible way that regular customers use to take decisions like as purchasing a two wheeler.
Searches will not be limited to Search Engines only: 2016 is the year where social sites will be transformed in an all- in- one platform that can be used by buyers to search for the product, compare it with options and then click on buy button to purchase it; everything on the same platform.So, now share your experience; chat with friends and buy your favourites from single platform and you can also display a social proof of new purchase. This will boost the eCommerce market thus offering integrated social experience to the customers.
Arrival of Virtual Reality: Few days back; we heard about the news that Facebook will now bring virtual reality app in the market. 2016 will be the year where virtual reality will be considered as a one of the useful digital marketing trends.Several types of virtual reality devices will be available in the market within next few years and most of these will be dedicated to some specific applications like as video games while others will be available for normal use.

The most well known virtual device is Oculus Rift and it will be released in the first quarter of 2016. Such devices will bring a completely new medium for online advertising along with options for integration to various social media platforms, video channels as well as ways of direct messaging.

Advertising is going to be more expensive: Keep this trend in mind before setting your digital marketing budget. Competition in the online marketing world has increased to an extent and 2016 will see experience it more.Economic laws show that when demand increases, price also increases and as a result; online advertising prices will see a hike. This can make it difficult for small businesses to afford however proper planning can set it all right.
Brief Note: Here, we mentioned total nine of the upcoming trends that can alter the face of digital marketing world. So, before you prepare any long term online marketing strategy; make sure to keep these trends in mind as prevention is always better than cure.
It is wise to be prepared instead of lamenting at the time. If you know more of these trends or have got any news about the same then do share with us.
Wind Up:
Hope this blog post from Platinum SEO; one of the well known providers of cost effective SEO Packages Melbourne; will serve as a perfect guide for developing the digital marketing strategy for coming year.
For more such useful guidance regarding SEO and other related IT fields, stay tuned with us.