Pierre Far via Google+ post notified us that there is a new Google Panda Update. This will have affect on many websites to their ranking on Google (the largest search engine in the world). What do you think, what are the best changes that you need to make to get better rank? I will try to introduce you with all of these facts in this article.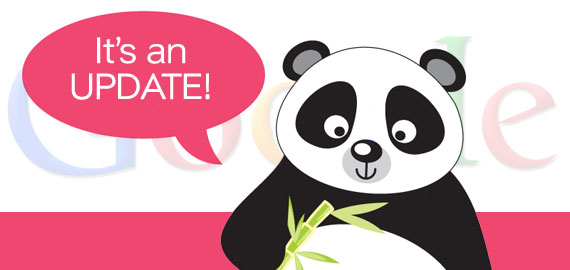 Brief info about Google's Panda update?
Google Panda is an algorithm that is designed by Google engineers. And it is a filter that is automatically recognizing websites with poor and spam content, also this algorithm is punishing these websites automatically, it's getting their rank at the bottom of the search results. It's working on that system that if the content of the websites is copied from another websites or if the quality of the websites is not good, then it will not rank good at Google.
New changes with the latest Panda update:
Pierre Far has notified as, via Google+ post, that earlier this week they started to improve their panda algorithm, they expect for everything to be done by the end of the week.
He also said that they (Google) will be able to get some more signals information, with that they can identify low quality content more precisely with help of user feedback for specific websites. This will help for small and medium sites that are with high quality content to get better ranking thus providing relevant ranks to the one who deserves it. As per this update, depending on the location, there are around 3-5% of the queries that are affected from this update.
So from now as they said every website will have a Google feedback, and they will rank them with help of our feedbacks and opinions about the site.
Effects of New Panda Update on your Website:
If your websites was penalized before:
If your websites was punished with some of the other Google Panda updates, then you have chance to get your websites on the right way. So if you have made the right changes on your websites and if your websites got better then you have really followed the instructions of Google algorithm updates. But if your site doesn't get better then your changes are not good and you must improve your websites' content.
If your websites was not punished before:
If after this update you have dropped from your good ranking positions, then that means that your website is punished, because their new algorithm update thinks that your content on the websites is not qualitative. If this happens to your website then you need to improve content on your websites, and you will for sure get on the old way with quality content.
This new Panda's algorithm update is targeting only websites that have poor and spam content, if your website content is quality and unique then stay happy.
Wind Up:
Google keeps on updating its algorithm in order to provide up to the mark services to the visitors. Therefore, it is quite important to stay informed about these updates and in case you need any advice regarding SEO strategy alterations then Platinum SEO, one of the well known SEO Company can assist you in various ways by offering different Packages for local and global SEO services.