Soon after 10 days, 2015 will end and there will be a new beginning with a New Year. Now, it is the perfect time to have union between SEO and other marketing channels. It is not possible to see sudden growth in traffic.
Today, SEO needs the company of several other marketing channels like as social media, PR, offline marketing and also email marketing. It cannot sustain alone. Some of these signals include brand mention, citations, search relevancy, data usage, content and links.
During past days; SEO was only about keywords, links, crawl and rankings but now it has grown to an extent.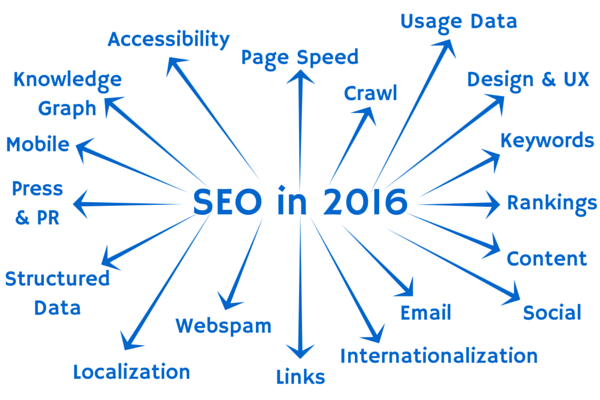 This image shows how much SEO has expanded and in what levels. Hence, it is necessary to have synergy between different marketing channels which will boost the overall marketing efforts thus allowing you to capitalize all the opportunities.
It also allows you to better develop marketing efforts for developing a strong brand irrespective of how any single marketing channel performs. It is never too late to develop a solid relationship between SEO and other marketing Channels.
So, let's take a look at this Holistic Marketing:
We will explain this with an example: A well known SEM firm wants to promote its upcoming event which is to be held in New York. Let's see how marketers promote this event with the use of different marketing channels.
Steps to promote the event using Holistic marketing:
A meeting is to be conducted among the teams of all marketing channels to discuss the content as well as promotion strategy for the event. Several teams include Marketing, PR, SEO, Social, email, Paid Search and Display.
Then Keyword research is to be conducted between SEO and Paid search teams. The marketing team will use this keyword research to develop content for event page of the website.
Later on, the marketing team will develop a video that showcases the upcoming event. This video will then be published on YouTube Channel and then it will be embedded on event page on the website.
Finally, the event page is to be published on the website. This page will include:

Detailed content with event schedule, speakers, benefits of attending the event and more.
Appropriate on page optimizations.
Structured data mark up.
Embedded YouTube hosted video
Google Maps embedded so that users can easily find the location.
Social and email sharing buttons which are prominently placed
RSVP Contact form.
Later on, as per the advice of SEO team; web masters will add new event page to XML sitemap. On the other hand, blog spot will be published by marketing team on the company's website showcasing the upcoming event.
Further, internal links will be added to blog post pointing users to the event page. Then, an email marketing team will add an email regarding the event in the Calendar and then this will be sent to all clients as well as newsletter subscribers.
Social teams will then post this event on Facebook as well as on Events app and the promotion video to the Videos app. Also, a unique hash tag will be created for the event.
Then, the PR team will develop a press release that highlights the event and then it will be submitted to major PR outlets. Based on the input from SEO team; the press release includes back links to the event page on the company's website.
Now comes Paid Promotion; here the paid search teams will launch certain paid campaigns that targets the business and on the other hand, social team will launch a Facebook NewsFeed Ad to promote the event.
The SEO and PR teams will outreach the influencers and websites to highlight the upcoming event. SEO and social teams will track the performance of the campaign and then again all teams will meet to make sure that the campaign is succeeding and then develop a weekly basis report on marketing efforts.
Conclusion:
From the above plan, we can see that all channels working together can help to widen the market reach with a solid plan. As we begin with the New Year, make sure to conduct necessary changes to the marketing so that you can easily use holistic approach to SEO.
Hope this blog post will help you to develop a useful SEO approach for your business which will help you to widen your market reach. For more such guidance, stay tuned with Platinum SEO; a well known SEO Company in Perth.