Do you want to achieve higher position for your keywords in the search engines then you are not considering the things that will actually help you to take that position. Search engine optimization is more technical as it keeps search engine algorithms as priority for analysis, experimentation and strategy.
On the other hand, search engine marketing deals with human factor of online marketing. Here, we have some important aspects of SEO and SEM as well as certain tips for proper implementation of overall digital marketing.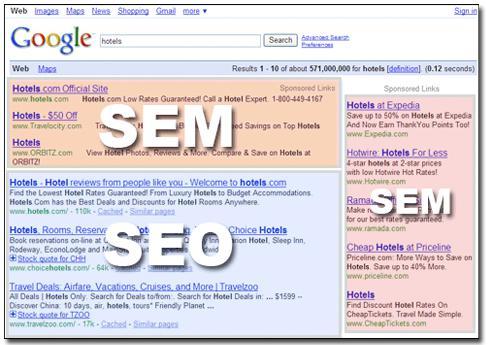 So, let's take a look at these three main differences which separate SEO from SEM.
Below are the Main Differences Between SEO and SEM:
Meta Description: This aspect is not used in Google's ranking algorithm since 2009. It is now dismissed by most of the website owners. Its usefulness in terms of boosting search engine rankings is one of the most important aspects of transforming impressions into clicks.

This short text is a first chance to sell your brand as well as products. It is the prime marketing real estate. It must have compelling copy which is unique and relevant to search terms to get the highest number of people to the site from search engine listing.

In case you do not specify a proper meta description for your page then search engines will automatically fill the area with the text taken from the page copy. For phrases, this is actually a good thing. While selecting keywords before you target search terms it is much better for you to remain in control.

Conversions: We can several SEO providers who will offer a report to the client stating a list of top positions that they have secured for a website. It's good for client when it gets 1st rank on Google.

So, before you get too excited then look closely at that keyword and check whether it is relevant to your site or not. Check whether that keyword is able to provide you sufficient amount of search traffic every month. Will it attract people who have the potential to turn into customers?

Here, the biggest problem takes place when SEO overrules SEM for a website which ranks for keywords that don't contribute to sales. Let's assume that your firm deals with data security solutions for large organizations.

Highly ranking for such terms like as "How to keep data safe on laptop?" or "best antivirus protection for computer" will have more stream of visitors that look for practical guidance and security recommendations for domestic use as compared to larger scale clients which you actually want.

Another consideration is content relevance for the visitor. Do you think that the keyword that you have used actually directs you to a page which offers the required information or provides solution to a problem?

Google traces the likelihood of visitors as well as search results so that it can select the proper page as a ranking factor. For this you must make sure that your pages are relevant and useful. It is one of the useful ways to lower bounce rates.

Search engines are smarter to match keywords and context. However, at the end of the day it is your responsibility to give value to search visitors so that they can easily be transformed into customers.

PPC Ads: Search engines are very well aware that PPC budget and activity do not influence a website's organic search rankings. Based on the studies, it is proved that most of the people are not aware about the difference between SEO and SEM.

People lack the difference between the first ad shown in search results and the top organic search listings. From SEM perspective, it makes sense to try and get the traffic for a keyword by using PPC ads in your search strategy.

Always keep in check the marketing site as well as sales aspect of your SEO efforts and make sure that you are attracting the right type of people to your site via search.
Wind Up
Hope these three key points have clearly stated the difference between SEO and SEM. For more such guidelines and updates stay tuned to Platinum SEO; SEO Experts Adelaide that offer result oriented services.