We can see enormous changes in Google Search Algorithms (Penguin, Panda, Hummingbird and Pigeon) which leads to the question "How Google Analytics is relevant to SEO? So, here are some reasons that show the relevance between SEO and Google Analytics.
Even if you are not aware about many keywords or phrases which can help to increase your website's online presence, it's still possible to increase the online reputation of the business. Here's where Analytics can help you. So, let's see how it can be done?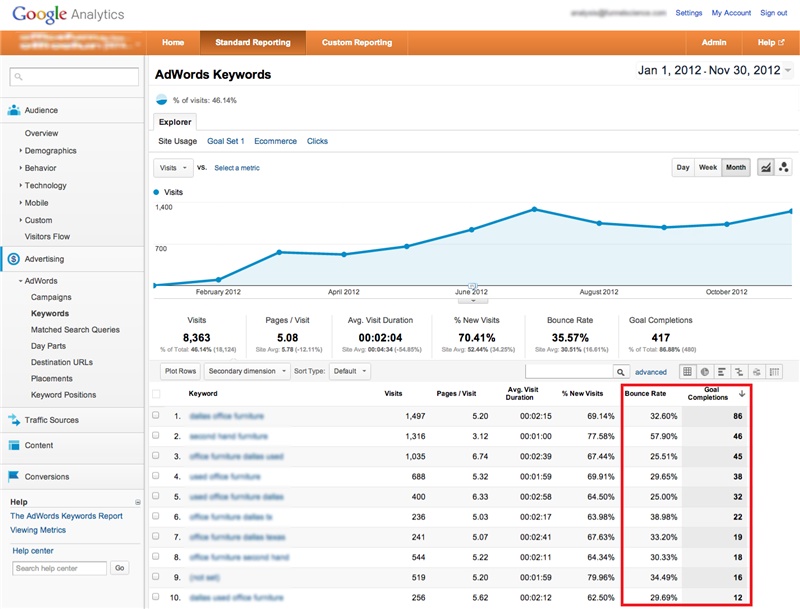 Make better use of Google Analytics:SEO experts are consistently checking the website bounce rates, an important factor to be considered while measuring the website traffic. With Google Analytics, one can easily see the bounce rates and can frame certain strategies or take further steps to improve it.This provides a good glance at the website traffic and gives an understanding of what makes people stay on the website or what makes them quickly switch to some other websites. We came across an infographic that states the average bounce rates for particular websites. Here's it:
Average Bounce Rates:


| Website Type | Average Bounce Rate |
| --- | --- |
| Content Website: | 40 -60% |
| Lead Generation Website | 30 -50% |
| Blogs | 70 -98% |
| Retail Sites | 20 -40% |
| Service Sites | 10 – 30% |
| Landing Pages | 70 -90% |

It's just an estimate. There's no proper measurement about bounce rates for any website. It solely depends on the type of website. Usually, it's seen that service websites have low bounce rates of 10 -30% while that of blogs is high i.e. 70- 98%.

Is there any reason for this? Let's check it out:Generally, websites providing any service have more views as many people tend to visit it with a view to get advantage of those services. More pages means more views which reduces the bounce rate to almost zero. So, for service oriented websites it's obvious to have low bounce rates.It only means they stay for long on your website and that's the different thing whether they are satisfied with your service or not. Bounce rate and client satisfaction are not related to each other. On the other hand, if we talk about blogging websites; they have enormous articles revealing plenty of information.

So, which article grabs the users attention is really very difficult to guess and this is one of the reasons blogging websites have more bounce rates as sometimes topics may fail to capture the interest of viewers.

And it's like no one likes to read same thing again and again. So, here articles can be read, liked, shared once and then a new topic is needed to capture the attention of people. This is really a very creative process which takes lot of thinking, research to provide interesting information to the readers.

Hence, if we take a look at bounce rates of blogging sites then they may seem to be having less performance while this may not be the case. So, for such cases other SEO factors must be considered to measure the website performance and to reduce the bounce rate to an extent.
Wind Up:
Bounce rate is only a part of SEO and is given equal importance as every other SEO factor. However, it is important as it shows how many people actually love to be on the site. But as discussed it depends on the type of website and based on that steps can taken to improve the bounce rates or expert advice from well known companies like Platinum SEO, SEO Agencies at Perth can also be taken.