Is it necessary to have expert SEO knowledge? Well, how can one become an expert if one doesn't begin the task? For small business owners or those who are just beginners in the ecommerce field, it's necessary to gain some knowledge about how SEO works and how it helps in increasing the revenue.
So, here we have listed some very easy tips which will help small business owners to improve their SEO efforts.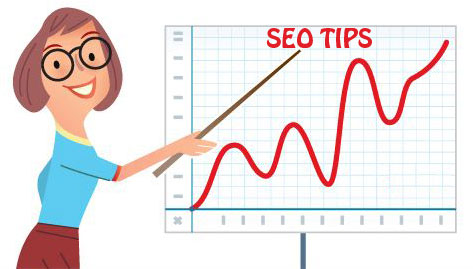 Some easy tips for small business owners
Think about content: Content is always given prime importance when it comes to online marketing or we can say ecommerce business. Most of the websites get high rankings only because of their content.Adding effective content to the website makes it relevant to the people's search and so it becomes easy for visitors to find your website because they easily get what they need. Appropriate content is one of the reasons people visit your website.
Blog writing: An effective way to reach to the people on the internet is writing a blog. But, beware don't write contents for the sake of writing or increasing search visibility instead your blogs must include the necessary information that people are actually searching for.And so to know what exactly people need, a little research is needed and then whatever topics you find while doing research, those topics can be used to write a blog. Blogs used as a part of content marketing should encourage visitors to visit your website again and again.
Give readers top priority: Only keyword stuffing is not the main aim of content marketing, content marketing is all about providing the necessary information to the people. You must write for your readers and not for search engines.
Create business pages on social networking sites: With increase in demand of social networking sites, social media marketing is becoming increasingly popular and to get advantage of social media marketing, it's important to make most use of social networking sites by creating business pages on various social media channels like Twitter, Face book, Google+ and more.
Make use of simple, clear URL structure: The topic should be easily known by reading its URL. Complex urls should be avoided, try to make it simple and easy to recognize because before the content, URL is the thing that comes in contact with the visitors.
Make Attempts to write evergreen content: Your content should not get outdated quickly so it's necessary to select such topics that every time interest users and they should keep coming to your website every time. Such contents get more rankings and are at the top even after years.
Have an eye on competitors: It's better to always keep an eye on what competitors are doing to increase their online as well as offline presence. Find the targeted keywords they have used and see if those words have actually gave them results.
Set up Google Local Listing: It's one of the ways to increase presence in local search results. So, always publish a Google local listing to enhance your visibility over the search engines.
Make use of Google Keyword Planner: Keywords are important to highlight your presence on Google. To get keywords related to your business field, Google Keyword Planner is important.
Wind up
Well, these are some of the tips that can help small business owners to improve their SEO efforts. There are many more such tips available and to know more of these, get in touch with Platinum SEO, affordable SEO services in Melbourne and see your business developing by leaps and bounds.