Developing a creative design is not an easy task. Yes, for those who have designing as their passion can do this task easily but it is not possible for everyone. Improper website designs are sometimes the main cause of business failure.
So, for those who don't have any website knowledge can hire experts to get amazing website developed. Sometimes web design companies might get such projects where they have to re create the entire design from the messed up ones.
Let's say for example; once we received a client whose website design was so messed up that he completely lost the hope that his website will ever get a better design! Such things can actually lead them to depression because website development needs creamy investment and it is the heart throb of any business.
So, if your heart beats are messed up how will you feel? You will be shifted to Intensive Care Unit (ICU). Same is the case when any business owner doesn't get satisfactory results for what he has paid.
Hence, keeping in mind such experiences we have framed a small check list that includes some important points which one must keep in mind while hiring a web designer or outsourcing the project to any web designing company.
Let's take a look at this check list and know what can help us to hire experts:
Tips to select expert web designers: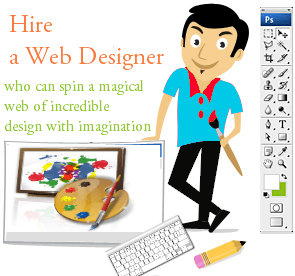 Portfolio: This depends on whether you want to select a fresher or an experienced person for your web design project because a fresher may not have a good portfolio or yours may be his/her first project.

Hence, if you are looking for experienced web designers then you can ask them about their portfolio. Check whether they really have the expertise that you are in need of or just you are the one having different kinds of needs.

Yes, it happens. You can have different needs from those which already others have because every business is unique and so every website will be unique and has to be unique.

Know about the web design process: Every company every designer has its own way of working and so it is required to know about the process of the designer or any web designing firm before actually assigning the task to them.

Make sure you understand their method properly and if it is suitable to you, you can hire them or outsource your project to them. You can ask them to explain the entire designing process in detail such as what is the first step, how will they proceed further and fulfill your needs and so on.

Know about the tools and any other systems that they use while developing the website and once you will satisfactory then you can go ahead and assign the task to them.

Software and Technologies available to them: The use of software and technology depends upon the need of the client. Every developer can do coding but it needs the eyes of experts to properly visualize your vision and understand what actually you need.

Technology will be used based on the type of website that is required for the business. Certain web developers' stick to a particular design structure but you must opt for those having flexibility to change the structure as per the need.

For this, first of all you need to make your needs clear to them. This will help the designers to get the perfect idea of what exactly you need. Skills make one an expert but understanding is yet an important thing when it comes to web design.

How they tackle obstacles: No path of success is smooth. Hurdles will be there but the thing how you take them and how you behave in that situation. So, designers must be smart enough to handle any damn situation.

So, it is very necessary to know how designers fight with these obstacles. Ask them what resources they opt for to get the guidance from and check all those tools to know how authentic the web designer or the company is.

Let's say if the designer or a team of designers you are going to hire has some contribution to such online resources then you can easily get the links of what he/she has contributed to the community.

This helps you to throw an insight on their problem solving skills and know whether they will be able to solve problems properly or not.

Are they aware about latest trends? Designing is a field that constantly keeps on updating. Like if we take a look at the design trend of previous years then flat design was highly in demand.

And parallax design is in demand. So, demand changes and if you love trends then obviously you will look for those designers who can design things as per the current trends. So, web designers must know what is going on in the market and whether it will suit your business or not.

Are your suggestions necessary? At times; clients want website to be designed in their way as they have unique vision about what their website should actually look like. On the other hand; there are clients who love to get the website designed the designers' way.

Now, you think what type of client you are? If you want your vision to be reflected in the website then provide some reference examples to the designer and explain what exactly and how you want it.

Guide them, explain them till they understand things completely in such a way that designers get your website image painted in their minds and they design it accordingly. Yes, you can always welcome their ideas.
Here, the decision is yours either provide them complete idea or just provide them the reference. Design error is going to occur irrespective of the person who is designing it. Hence, it is necessary to get answers to all of your questions as this will clear all your doubts thus helping you get better website developed from experts.
Wind Up
So, make sure to get proper answers to all the above mentioned questions and you will then be able to get the website that is worthy of your investment. Interested to get the website design from such experts? Then you are at the right place.
Platinum SEO is one of the well known providers of web design service Melbourne that excels in developing the websites as per the current trends.