Digital marketing slowly replaces the traditional SEO techniques. Now days, before finding your physical location; people search it on apps like Google Maps and directories like as Yelp. Still there are some business owners who ignore these apps and directories and don't include it in digital marketing strategy.
However, in today's online world it is necessary to include these things in your digital marketing strategy as these will help you to boost your online presence and drive maximum traffic. This must be addressed to make sure results are achieved online as well as offline.
There are many web development programmes that provide an option to include Google Maps widget on the site that allows users to search location in Google Maps and then get directions to the location.
Another option is to get the screenshot of business location next to the address and also other contact information. Apart from, offsite map optimization is more important because most of the searches for local businesses are usually crowded with results for Google Maps, Yelp and other related directory sites.
When the paid search results appear from Google then you can see the results having listing agencies having Maps listing via Google My business and the first organic search result is from a directory site.
This means if small businesses fail to include maps listing in their SEO and content marketing strategy then chances are there that they will miss out creamy chunk of their business. So, how can off site map optimization be done?
Optimizing Google My Business:
To have your business location displayed on Google Maps, one first needs to create a Google My business account. With this free account, one can create a location listing of the company or use current existing location that is already entered by anyone else. This is the only way to get the business listed on Google Maps in first place.
Apart from just adding name, address; more details can also be added to Google Maps and the more information your listing has, the better it will rank on Google Maps results and more it will be useful to potential customers.
Basic details like as business categories, working hours, contact numbers as well as website are the great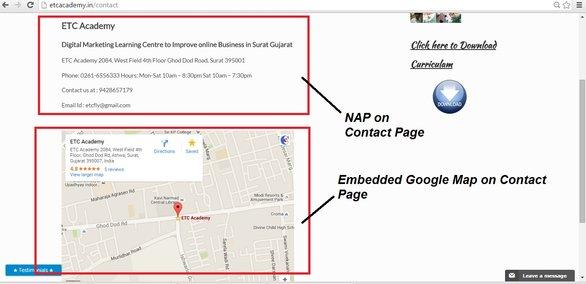 places to start. You can also add business images so that potential customers can get better idea of your business location.
Businesses with multiple locations can manage multiple sites from a single account. In case you wish to add more listings then a spreadsheet can be prepared and uploaded to make the process easy. At times, when you search for your business; a closed listing will appear.
This is because its information is already added in Google and so it is necessary to remove such details to avoid negative ranking influences. Once you submit the information; make sure to have a verification Pin code.
Google will then send a post card to that address in order to verify the details. This will then get the business listing verified in Google Maps. Without this verification, your location won't be visible on Google Maps.
Optimizing Directory Listings:
Till now you saw how Google Map listings are to be optimized and now we will take a look at how directory listings can be optimized. There are various directory sites which help you to get more customers.
Among all the available ones, Yelp is the most useful as well as authoritative site that is used by customers to write business reviews, know about other businesses and here business owners can claim the location listing and the same information can then be included.
Other such useful business directories are Yellow pages.com, Angie's List and FourSquare where businesses can update their profile with accurate information. One can also opt for localized business directories which are specific to their niche.
Another useful place can be social media location referral resource like as Facebook Pages which permits businesses to share their address, phone number, website and email as well as contact information.
Sites publishing reviews about business can also help you to get more reviews which will increase the visibility on Google Maps as well as Yelp and on the other hand, number of negative reviews can lead to sudden drop in business. So, it is necessary to monitor the feedback and respond calmly.
Make use of other Content Marketing Influences as well:
Optimizing listings on Google Maps, Yelp and other directories is important. However, other important elements of content marketing should also be used effectively. This includes optimizing website content that is relevant to localized target market with keywords, titles and page headings as well as optimized images which play an important role in enhancing SEO rankings.
On the other hand, creating user centric content on your site as well as on third party sites can be used to develop good rapport with Google. These ongoing elements of digital marketing must also be considered so as to enhance the business presence on Google Maps.
Optimizing locations on Google Maps as well as other directory sites must be in accordance with the overall content marketing strategy. This will help you to generate fruits for your content marketing efforts and hence this will help business to grow.
And your business will now be visible in search results as well as in important map rankings.
Wind Up:
Make most use of Google Maps and business directory listings to get your business noticed on the internet. To get your business maps optimized in order to be visible among important rankings in map results, you can get in touch with Platinum SEO that offers affordable SEO Services in Melbourne.
Let us know how this blog post was useful to you. Do share your feedback with us and stay connected with us for more such tips and tricks related to SEO industry which will help you to make use of updated SEO techniques for better online presence.