Are you a digital marketing strategist? Do you love frame a result oriented digital marketing strategy? Then, this post is for you. Here, we have discussed some important facts that are generally ignored while framing a strategy but are really useful.
These factors will help to see the hidden areas of the Internet marketing thus helping you to frame a better strategy.
Out of 10, only 2 sites are content oriented
When we create a list of most popular 10 sites, we will see Google, Facebook, Yahoo, MSN/Bing, YouTube, Microsoft etc. So, among these we can see that only you tube and WikipediA can be really known as content oriented sites.
Here's the important point. We generally hear: Content is the king but it is not. How much your website is useful is important. So, usefulness is the king. Popular sites tend to make people do something rather just sitting and reading their sites.
Content marketing is of course important and an important way to grow. Although, those digital marketers that believe content is the king are very far away from the reality because reality is very different. Most successful sites give priority to tools, communities and interactive platforms.
It's also difficult to realize that YouTube and WikipediA would be useless without interactive platforms. No Content Marketer can completely understand the web without actually knowing this fact.
Emails are more useful than Social Media
We all say social media is a powerful tool however the truth is emails are more powerful than these social media tools. People open their mails very often then they log in to their social site accounts.
Emails give a personal touch to the visitors while social media may seem to be the general board of discussion. Average email click through rate exceeds 3.1 % where as Facebook and Twitter clicks are only 1.64 as measured two years back.
So, social media are known to be great but they are not actually great. It's just a primary way to interact with customers and also to reach new people but it's not an adopted method to reach your target audience.
One third of website traffic arrives from Mobile
Most of the internet analysts feel that social media is the one that generates maximum traffic while this is not true as maximum traffic is generated from mobile devices. If we look at fortune 100 companies, most of them possess mobile friendly websites. Generally, people leave an incomplete transaction if it's not optimized from mobile.
Most of the time is spent in mobile apps and not the Internet
We love to use mobile apps for listening songs, doing daily tasks and much more. Likewise, many people spend maximum of their time behind various mobile apps and on the web.
App usage is growing by leaps and bounds.
So, to get success just get a business app developed rather than investing in any website. Website is of course important but app is recommended.
Internet is used more in mobile apps than surfing on PCs
As per a study, about 29 hours per week are spent on the internet via mobile apps and 27 hours are spent for accessing web from a PC browser and only 5 hours web browsing from mobile browser.
Mobile Apps are the popular way to connect to the internet. Gone are the days when internet was just used via any browser for surfing purposes.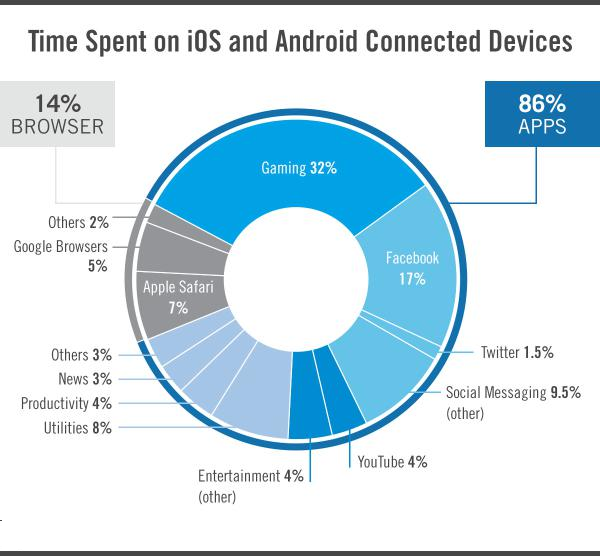 Wind Up
So, now whenever you sit to prepare an internet marketing strategy, first go through these facts and then frame your plan that will give derived results to your clients. To understand these facts in detail, get in touch with well known Online marketing services provider Melbourne, Platinum SEO.