Mobile strategy is required to be developed for developing custom eCommerce solutions. It is necessary to have a well planned mobile strategy. This will be of utmost priority to develop and design a perfect mobile story. Here, the role of framework in offering great eCommerce experiences is to be discussed.
Basically, when it comes to mobile design there are two types one is responsive and second is adaptive web design which permits the content to adjust and adapt based on the size of the device on which the website is to be viewed with optimal viewing experience of a website.
Difference between Adaptive Web Design and Responsive Web Design:
Adaptive web design varies from responsive web design. Here, separate layouts are to be prepared for each design in order to fit the device and in responsive design; one layout is used for all devices. Responsive web design as well as server side components combine with server side layouts of the web design.
A particular set of layout templates is used for a set of devices and specific components within the site maintain device specific implementations which are rendered on server side. There are clients who properly understand the value of mobile design approaches and evaluate each and every web design.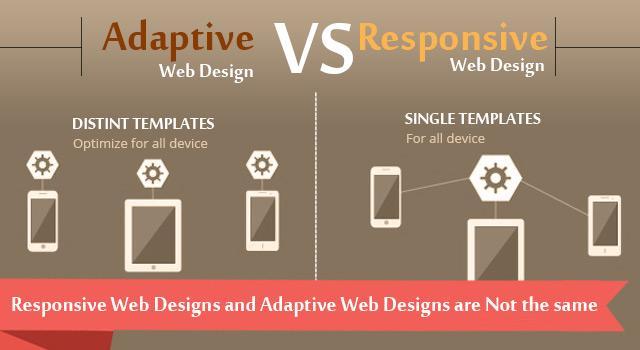 While working with clients of mobile strategy, the most successful results arrive from a combination of design principles. This is seen in various evidences drawn from several studies including the one where top quartile retailer shows 64% of mobile transactions are done via Smart phones.
The clients are developing great solutions to boost mobile experiences for their customers. The job is to continue to provide tools to help our clients innovate at faster pace.
Apart from this, the widely used mobile design form is RESS. In such designs, responsive design with server side components combines the layouts with adaptive web design along with server side component optimization.
So, which is more suitable for your business or what should you prefer?
Responsive web design: This provides the optimal viewing experience of any website irrespective of the device used. It offers smooth user experience across various devices and it is done by using fluid grids that is a term for design which works no matter what the screen size is.

It is somewhat difficult to develop responsive web design as the CSS needs extra attention. Responsive sites load faster as compared to adaptive sites.

Adaptive Design: Here, different layouts are developed for different devices and these depend on the screen size. The site identifies the device used and then based on that it delivers the layout.

Adaptive websites take more time to load as more web pages are to be loaded instead of a single layout. One of its drawbacks is that its final results don't display the best for several screen sizes. As compared to Responsive ones, these are less flexible.
To the end, we can say responsive design is more preferable to use as it always functions smoothly irrespective of the new screen size with improving load times. Yes, at times development may be better option and these would be used for newer smaller websites which are just starting out.
Wind Up:
Let us know how this blog post is useful to you. For more such details, stay tuned with Platinum SEO; Responsive Web Design Melbourne.