veryday what you speak, what you search and whatever you do using internet; Google knows it all. Surprised! It is true. We may think and feel that Google doesn't know us but actually it knows everything. Here, we will show you how you can find what Google knows about you?
Your smartphone is the device that knows everything about yourself. Google Maps always remains updated with your location and Facebook has developed a detailed character profile of all of its users.
Here are the ways through which you can find what Google knows about you:
Select history.google.com/history
Login to your Google account: Here, you will get only saved searches that you had made while logged into an unrestricted Google Account. This may not have every search that you had made but yet it will give you an accurate overview of your browsing habits.
Choose the down arrow next to "last week" and then change it to "all time".
Search for more recent search history by selecting "last month" and "last year"
Now, delete the browsing data.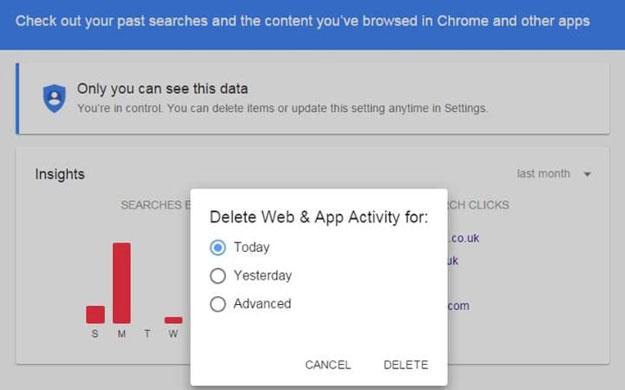 This offers you an immediate option to delete data from "Today" and "Yesterday". The entire search data can be deleted just by clicking on three dots available on the top right hand side of the window and selecting "Delete options".
When clicking on advanced, you can delete information from last four weeks or "all time".
Google keeps a watch on you: The three dots at the top right hand corner of the window is where you can find what Google knows about you. Just select "settings" then go to "show more controls" and then choose "manage activity" under the "places you go" tab.

If you have location services turned on then it will show you a complete map of all the places where you have used your mobile device.

Know your image with Google by old Google: Further in the bottom of "activity controls" page, choose ads and then you will see a profile that Google has for you. This includes a rough age range, gender as well as interests.

You can change it to make it more accurate. If you don't like this profile then you can easily delete it or edit it. This will affect your adverts across alphabet products.

Now, next time when you search anything; keep in mind that Google is mapping your searches and in case you wish to get rid of it then please delete all the past searches.

Take Away:

Here, we have revealed the secret that Google knows everything about you. Now, it's your choice whether you are interested to let Google know or you wish to delete the details.

We are sure that this blog post might have helped you in some or the other way. Let us know if you liked this post or not. Share your feedback with us at Platinum SEO; SEO Services in Melbourne.