Do you believe this? Or is it just a rumour? Can SEO jobs reduce? I mean SEO is an ever changing IT field and hence it is always in need of candidates who are aware of latest techniques and love to keep themselves updated. Then how come jobs can be reduced!
I think there's something fishy inside. Let's check it out: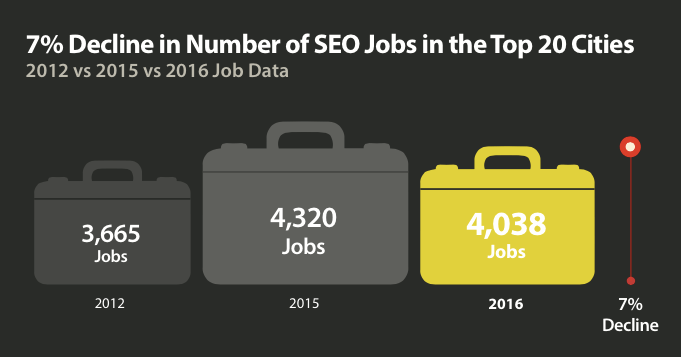 Reduction in SEO Jobs:
According to a study; the amount of inbound marketing jobs is believed to reduce for the first time in four years span of time. So, what can be the reason for the same? Is it the salary for SEO jobs?
The study shows that SEO Professionals used to get good salaries between 2012 and 2015. But now they are dropping in 2016. According to a marketing expert Esthen Chung
"Decline in Inbound Marketing jobs is actually the sign of rise in SEO and we can say that SEO is expanding into a common skill that is featured universally among various roles".
According to this statement; we can say that fewer SEO jobs are due to availability of few SEO positions and also now days; businesses are integrating the skills of SEOs in various positions within the company.
This can be the case however one must not overlook the data that shows various cities which see sharp declines in jobs and salaries. If we look at the top 20 cities in U.S., there's 7% overall decline in SEO jobs while comparing year after year data.
Job salaries are also affected where the average salary decline was 7% with SEO Coordinator that seems to have seen sharpest decline in 19%. This seems to be alarming for all those who work in SEO industry.
There's no indication as to why demand for SEO skills has reduced. Might be I think Business owners have started learning SEO on their own! Here, we can say that the words quoted by the expert Mr. Chung are apt.
What's the solution?
Well, we always keep on discussing problems but hardly focus on solution. Here, we can say that to stop the decline in SEO jobs; what well known SEO Adelaide firms like Platinum SEO can do is "try to make SEO skills an integral part of the business instead of just hiring an SEO professional or just keeping a team of five six SEO experts and framing SEO departments.
Make SEO a must to have skill for whosoever works with you and for you and all employees in each and every department must know it because now days, SEO has become a prerequisite for all professionals in the organization.
Slowly, it will be a general requirement for every firm and this will lead to rise in entry level jobs which will have SEO as a mandatory skill for any job and keeping in mind the level, salaries are to be decided accordingly along with what's going on in the industry.
So, now SEO Professionals willing to get a job in reputed firm must learn about the skills that actually can render you a creamy job! Yes jobs can be yummy creamy too if you have yummy creamy salaries!
Take Away:
Now, after reading this post; I hope you will know the state of SEO and what one needs to do to improve it. We hope that you may be the first one to apply the solution and lend a helping hand in increasing SEO job opportunities.