There are various attribution models available and in recent years; many of these are evolved to an extent. Most of the Australia's digital marketing practitioners are involved in simple last click approaches as per the recent study.
As per a report; near about 6 out of 10 marketers believe that attribution is very important. Nearly 52% still prefer single click method. According to authors; 39% of marketers attribute only up to 24% of conversions. Number of marketers that attribute over 50% of conversions is just 12%.
On the other hand; the proportion of marketers using multiple touch point attribution is growing to an extent and it increased to 36% last year.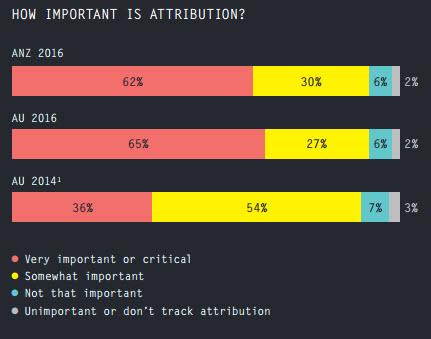 This report strongly showcases the features of mobility. 51% marketers say that they are planning to increase their mobile advertising budget this year. It represents the importance of reaching to the people where they spend more of their time on mobile devices.
In several ways, marketers outplace business realities. Let's say 24% of marketers don't have a mobile app and 21% still lack a well optimized mobile site. Some of the advertisers find that user experience of mobile advertising continues to be a hindrance and 27% believe that it is one of their huge stumbling block.
Programmatic:
This is completely a new practice in terms of years and authors say that marketers have completely embraced the programmatic era. 92% of marketers who plan for programmatic budgets increase or stay over the same even in 2016 and nearly 55% of marketers see their greatest return via programmatic ads as compared to traditional media buying.
Now days; marketing is becoming technology driven and marketers are being held to higher standards of measurement and accountability than ever before. Results from this survey show that 2016 can be considered as a massive year for digital advertising and here marketers understand the importance of being able to properly report on digital campaigns and then are keen to learn as how it can be made better.
Digital marketing is very useful to increase online presence. Attribution serves to be a constant weakness of every digital marketer in Australia. This is to be handled in order to make digital marketing work in a better way.
So, digital marketers; next time when you wish to opt for digital marketing plan then keep in mind this attribution thing and make sure it doesn't affect your plans.
Take Away: Hope here you got some idea as to how attribution affects digital marketing. Let us know your feedback about this post and how it helped you in preparing digital marketing budget as well as excel in the field and reach to potential customers.
Stay tuned with us for more such updates regarding online marketing. Get guidance for your digital marketing budget from well known marketing experts at Platinum SEO; SEO Company Adelaide.