Everyone is aware that outbound marketing is now outdated as now people can easily make their choices regarding the products and services they wish to purchase. Times have changed and now instead of being attracted by advertisements and commercials, customers now are more interested in comparing price of the product, know the product reviews and recommendations and purchase the product wisely.
So, this clearly shows that now cold calling and direct advertising methods no longer exists. Gone are the days when emails were sent to the customers about product specifications, posters and billboards are not given much importance, television advertisements have reduced their influence and more.
Answer to every question is "No" and so outbound marketing is to be considered as outdated and ineffective. As now social media and inbound marketing has replaced these old advertising techniques. With a view to get inbound marketing strategy optimized, certain things inbound marketers must learn from out bound marketing techniques like as developing strong and recognizable brand in order to make the content more flexible.
So, let's see what outbound marketing has to offer to today's Inbound marketing, after all there goes a saying: Old is Gold.
Overview of Inbound Vs. Outbound Marketing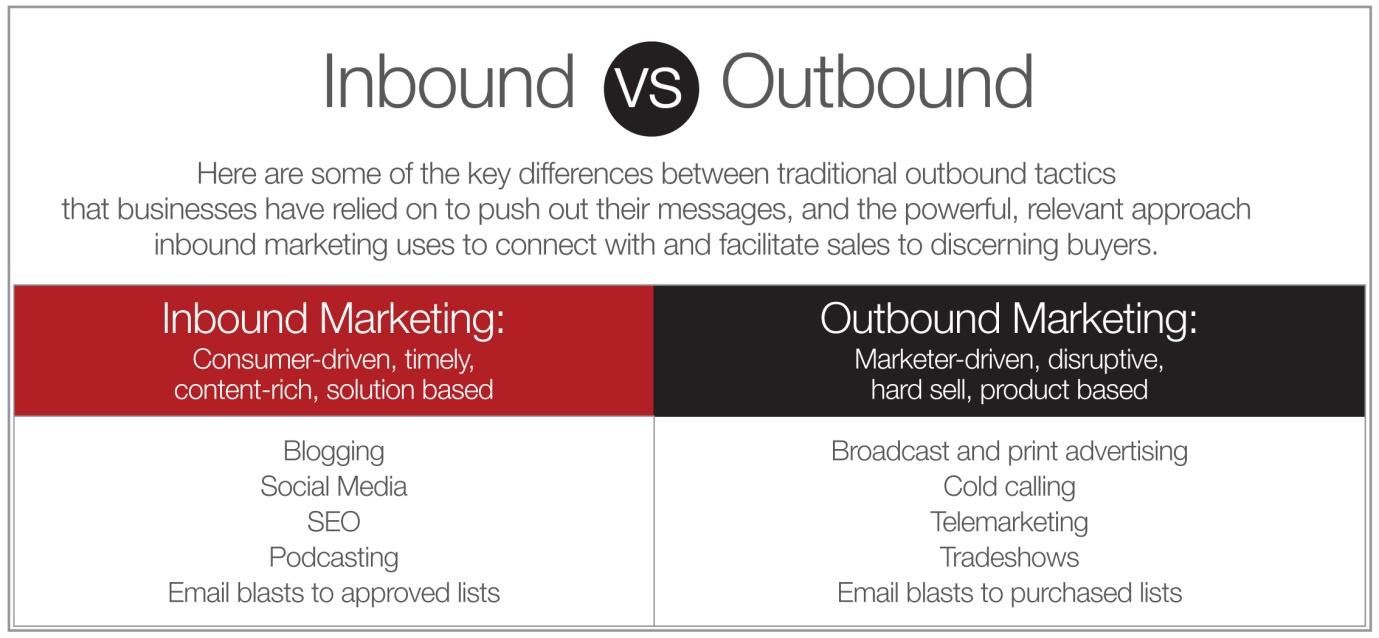 Choosing perfect audience for your products: With outbound marketing, proper audience was targeted for any particular brand or service. The entire data was gathered and analyzed to check the impact of television advertisement or any billboard adverts on the target audience especially if the organization would buy costly television advert slots to have a greater impact on the minds of target audience.This technique is also useful to inbound marketers today especially useful for small business owners having limited monetary resources. Social media, being one of the easy and effective ways to divide the content is widely used for inbound marketing purpose.A perfect social media strategy is to be developed to make sure that the message is properly delivered to the right target audience at right time. So, the prime task is to identify the target audience and then make use of Facebook's data analysis system to post targeted posts for the audience.
Developing the brand: Once the target audience is selected then comes the process of brand development. Brand must be easily recognizable and to be remembered. With the help of proper use of graphic design, this can be done easily.Along with graphic design, perfect content is also needed by means of adverts. In today's inbound marketing also brand development is of equal importance. So, making an impact on the people about your brand is required and this can be done by using attractive colours, various fonts and lots more to create a unique brand logo.Once the logo is developed, a strong inbound marketing strategy is to be developed to get loyal customers as well as generate new leads through various contents such as social media posts about the product or recognizable brand that makes it stand out from others.
Creating amazing content: After brand development comes the content; content was equally important in outbound marketing as it is in inbound marketing. In out bound marketing , content was about banners, posters, email messages and bill boards as well as media advertisements designed to grab the attention of users and convert them to sales.Flexibility is what we can learn from out bound marketing which is equally important in inbound marketing. So, in bound marketing is surrounded by multi channel marketing strategies that need a complete new and optimized content to generate leads.Developing original content on regular basis needs the effort of research and design team to implement the content as well as manage the process. The aim should be to create original content that can be re used as and when needed with necessary alterations.

Hence, tag lines slogan can be used over social media channels to promote brand on the internet.
Wind up:
Even though outbound marketing is getting vanished, lot of things can be learnt from it and applied in inbound marketing to make it effective and generate desired results. So, from now on when you decide to develop your inbound marketing strategy, make sure to follow the above three important things in order to frame a good inbound marketing strategy.
To get result oriented strategy developed from experts, get in touch with Platinum SEO, well known SEO company Sydney.