Every time we can see slight changes in the marketing field. To know about the market predictions in 2016, we got in touch with some of the marketing experts and their views were as follows:
Let's know about the marketing predictions in 2016.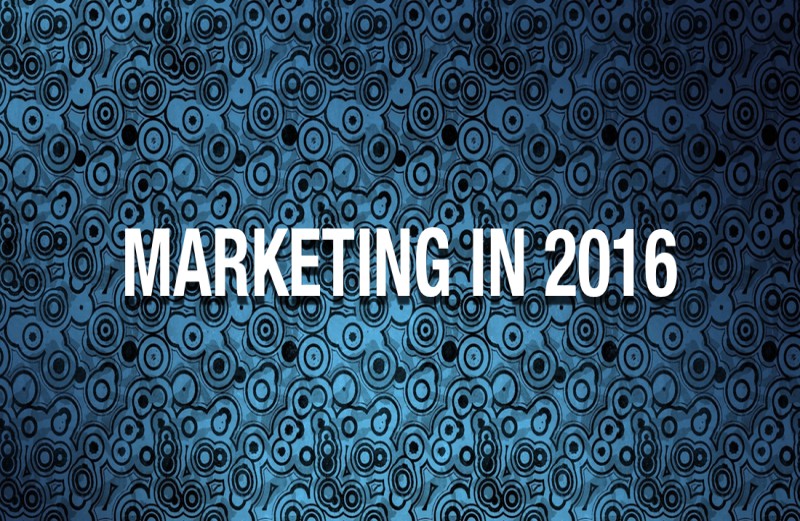 Marketing Predictions for 2016:
It's now time for Cognitive Commerce: When consumers need instant gratification at that time marketers must deeply get engaged to develop advocacy. Here, the key is cognitive commerce.It enables marketers to get insights into vast collection of information and possibilities. So, make sure to know what individuals really want and then get a sight about their unique personalities and their response towards various messages and more.With this deeper insight; marketers can quickly identify patterns and create unlikely connections which allow them to get engaged with customers in highly personalized context conversations.It is the thing that we need from brands today and here cognition helps.
Real time marketing analysis: Every digital marketing programme like as emails, video views, website visits, webinar attendance and many others consists of great marketing analytics.Here, there was lack of visibility in the key channel used by sales team. Sales people are the ones who track the calls using CRM. Now, telephone call logs are integrated with other behavioural data to better understand the buying journey of customers.Those prospects who never came to your website or got involved in conversation with you are actually getting engaged with you. An additional benefit is to get visibility into Service level agreements for the sales team.

Let's say if one agrees to call an "A" lead in one hour and then you keep the track whether it is done or not.

Finally, analytics include phone connections that lead to better sales/ marketing alignment and greater productivity.

Branding efforts will be re-imagined: Only about 14% of people trust traditional advertising and only 78% trust recommendations from peers. Reviews from the employees affects company a lot as compared to digital marketing techniques carried out to create brand awareness.Leading brands focus in investing in resources so that required workforce is developed and as a result a win/win situation is created. Company gets highly benefitted from authentic communication and employees develop personal brands.This approach is based entirely on trust, authenticity and transparency – the three cultural pillars that are essential to activate the workforce around various social business best practices.
Digital Marketing will end: Digital marketing as we all know is tremendously complex and connected. It is always on. Over the past decade; marketers have adjusted by optimizing multiple individual platforms.It's not just about new digital platforms but it is about tactics for which marketers shift from sorting tactics and channels which are digital or not. They will catch up customers.
TV will change in 2016: The media and marketing world face an increasing rate of change with the availability of new channels, new devices and completely new formats that are available on weekly basis in order to create new opportunities, complexity and headaches for the market.These changes will be nothing as compared to those that we will be seeing on TV landscape. 2016 will be the year where we can see virtual reality combined with old world distribution models which will unleash a new age of TV.Marketers who will win in this new will be defined as agility, a constant test to measure the mindset and foundation of data and analytics.
2016 will be a true indicator of success: In 2016, personalization will become more of predictive and pre planned experience for customer instead of result of behavioural engagements which boost personalization.This trend in 2016 relies heavily on data integration as well as customer segmentations. In order to capitalize and show ROI on investments one should ensure to have integrated marketing cloud and have a full set of completely defined personas as well as customer segments where right content can be delivered at right time.
Getting back to basics: The new tech trends allow us to connect endlessly with customers. In case you are unaware about the basics of your brand then even if you use best social media campaign in the world, you may fail.So, first of all it is essential to know what you stand for. Be it any company purpose, point of difference, preposition or master equity, one knows how he/she is different from competitors and then drive that message home.On the other hand when we say that content is the king we can also say that context is queen. The message must be aligned with the medium.
Employee Experience will have value equal to that of customer experience: Employee experience also matters. Loyal and deeply involved employees are more productive and best cheerleaders for your brand.Those organizations who don't invest in their brands as well as employee experience can risk to lose some of their employees. They risk losing their best employees. To avoid maximum cost of constant turnover, hiring and training and to boost brand ambassadors, it is necessary for brands to invest in work force.Encourage your employees, show them that their work plays an important role and offers them opportunities to learn things before hand and appreciation will encourage them to do more work.
Intent based marketing will be the real way to market business: Marketers who value buyers can present most of the effective messages or call to action on web. Technology can now interpret the behavioural data and then will quickly deliver a relevant message, recommendation or message.This will help marketers to recognize their capabilities. Newer systems will have machine based learning as well as response automation thus helping to unlock full potential of Intent based marketing.
Videos will be more important: We can see videos getting momentum in 2015 and in 2016; these will be more important and will be used in advertising space. Live streaming will grow to an extent and various apps like Periscope will continue to get increased market share.
Wind Up:
Be ready to prepare a perfect marketing strategy as per the latest trends. For more such details, stay tuned with Platinum SEO; SEO Experts Adelaide who can serve customers in a better way as per their needs.