On 21st April, Google's mobile friendly algorithm will be released and with this algorithm, a drastic ecommerce shift will take place in the way ecommerce websites will think about mobile search engine optimization strategies.
This "Mobile Friendly Algorithm" was announced a month ago and it has a significant impact on overall mobile search results. Coming this 21st April 2015, the ranking performance will be based on one more factor called Mobile ranking and those websites that render positive mobile experience to the visitors will get boost in rankings.
On the other hand, websites that do not meet Google's criteria of mobile friendliness are likely to see reductions in visits as well as conversion rates. With this update, many questions will rise in the minds of people.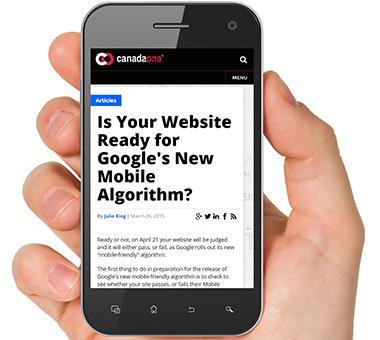 One such question is to identify whether your website is mobile friendly or not?
This can be easily known with a simple mobile test conducted by Google and it will let you know whether your website is mobile friendly or not based on Google's standards. It's very simple to identify this. Just paste any URL and wait till 60 seconds for the test to get completed.
Every single web page will be checked accordingly and sometimes you can also check multiple pages at once. Chances are there that homepage may pass the test but other pages can fail to do so. Google webmaster tools can also warn you about mobile issues via message.
Is it necessary for a website to be responsive in order to be mobile friendly?
Responsive design is welcomed by Google as it helps to overcome other challenges that are often faced by other search engines or digital marketers. There are times when separate mobile site can be beneficial and supportive to others as well.
Can responsive web sites fail in Google mobile friendly test?
Responsive design and mobile friendly website are two different things as per Google's standards. Google can control the websites getting passed or failed or those that can get mobile boost. Responsive websites can sometimes fail because of having blocked robot.txt files which are needed by Google to know whether the page is user friendly or not.
Let's say if your responsive web page is based on JavaScript and other CSS files in order to get a proper look on mobile and if such files are hidden by Google bots then it becomes difficult for Google to identify your website as mobile friendly.
Hence, it's advisable to unblock such robot.txt files and allow search engines to access the necessary CSS and JavaScript files. It's advisable to ask your developer to do so in case you face any problems.
What needs to be done from now till 21st April?
Less than three weeks are remaining for Google's algorithm release and so within this short span of time no quick actions can be taken to make site mobile friendly. So, the only thing you can do is begin your website's mobile friendly test and then don't perform any action till the time you get enough data to develop a particular strategy.
Start planning on how to solve your website's mobile friendly issues that Google can consider. Get in touch with any well known SEO Agency Melbourne like Platinum SEO or hire any SEO experts to identify the issues and then frame a well planned strategy which can be used to sort out those issues. In case, there are minor issues like as unblocking the txt files then do it immediately before 21st April.
How much time will Google take to update the website's status?
It's a simple test. When Google crawls any individual page, it will either pass or fail the mobile friendly test. So, in case you have fixed the issue with any mobile friendly template or by unblocking the txt files then the web page will be re- evaluated again next time when Google crawls the website.
Let's say, if you have found any issue and fixed it today and if Google bots crawl your website tomorrow then the pages affected by change will soon be re tested and then assigned either a pass or fail status.
And next time your website will have the potential to pass the test and get a mobile friendly ranking boost.
Wind Up:
Hope, this blog post will be sufficient to guide you and warn you about Google's new mobile friendly algorithm. So, be quick and perform your website's mobile test now to identify any issues and get them solved quickly to get a mobile ranking boost.