Previously SEO techniques were used only to increase the business presence on the internet. But now, this field has incurred a drastic change. Now, SEO is meant to make users happy. Quality websites are now being rewarded the most.
Happy Customers is now the main motto of Search Engines:
As compared to other factors of any web design, User experience is now an important part. Google as well as other search engines give more preference to those websites which are very useful to the visitors. Any websites having frequent visits are also considered valuable by Google and hence these get good search rankings.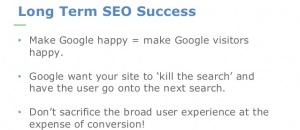 Search entirely depends on the User Context:
People search what they need and depending on the interest of the audience, context is known. However, it's important to provide relevant answers to the search queries. While developing the content of any website, the main challenge is to provide proper information to the visitors. High Quality content is the true measure to differ excellent websites from the average ones.
Trustworthy Websites earn more Revenue:
Online shopping has become the talk of the day but not all online shopping sites have good profitability. Websites which can win the trust of the buyers, are safe and secure are only able to be ahead among the rat race.
Hence, it's significant for businesses to build trust among the target audience. Users can trust you only if they see you being up to date with market trends as well as aware about the industry updates.
For a business to succeed, develop a team of skilled writers who can win the hearts of people by offering them valuable information on time. Clear your focus to your customers and make them feel that you are here to help them rather than just increasing your sales.
Quick Loading Speed:
We use internet because we want quick results and hence no visitor is ready to wait on your website for the results to get loaded. People are very upfront while sharing experience on the internet and hence negative as well as positive feedbacks about any website are easily published.
So, always make sure to provide positive user experience to people and maintain customer satisfaction with a surety that you are likely to get maximum number of loyal customers. In case visitors are not happy with your web performance, they won't buy anything from you.
Among all the factors related to web performance, 60% people bounce back due to slow loading speed. Hence, make sure that your website has a fast page loading time thus improving your web performance which ultimately leads to happy customers.
Bottom Line: Google is extremely satisfied with you when you have good number of happy and satisfied users. So, always remember that you are making Google happy by making visitors happy.
Wind Up
Apart from those discussed here, there are various other factors of SEO which play an important role in making users happy. Those will be discussed at peace in some of our upcoming blog posts but for now this is the key to satisfactory user experience.
For some more guidance about SEO & its components, you can get connected with Melbourne SEO services, Platinum SEO.