Since last few years, social media has affected our culture a lot. In the initial phases, social media was just limited to computer geeks but now everyone seems to be behind it. Well, social media strategies vary depending on the size of the firm.
Be it people or platforms; Social media is dynamic in every nature. With new generation being diehard fan of social media; even small children are very interactive on these platforms and now even they can easily communicate via mobile devices.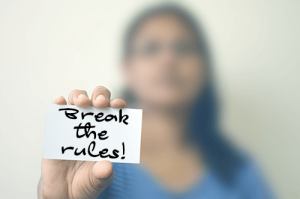 With change in users' behaviours, strategies are to be changed. If you still stick to the same age old social media plans then this may badly hinder your business or brand's online reputation. Here, in this blog post from one of the
Local SEO Companies Melbourne,
Platinum SEO; we have highlighted such rules that can be broken easily to meet up with the change:
Social media Rules that are Worth Breaking!
What to Tweet what not to: Years back, when twitter was new; it was not advisable to talk about silly things like what you had in lunch. In short personal things were not discussed on social networking sites.But now days, these things are also discussed on social networking sites. Now days, times have changed. This has become now popular. Foodies are the things that are now discussed on social media platforms. People take pictures and share their stories.
Prepare a social marketing plan and adhere to it: There are innumerable social media marketing platforms available in the market. Do you use SnapChat, Tumblr, WhatsApp. With this dynamic environment of platforms, one can create a perfect social media marketing plan which can adapt according to the changes in the industry.Social media marketing plans should be adaptive in nature with the changes in platforms. It is necessary to have quarterly plans, strategies as well as evaluating current platforms, tools and tactics as well as content strategies.
Have presence on channels that suit you: It is said that one must have presence on only those social media channels that are actually useful to the business or that meet the business niche.This is the rule but according to the recent changes; one must be present on all channels. This will boost your online reputation. Social media users have more expectations. Hence, it is necessary to have deeper presence in platforms that match your objective.
Post the content for a specific number of times in a week: There are enormous number of articles as well as infographics that will let you know what to post, when and how to post. This will provide you an idea of what others are posting.Never post just for the sake of posting; the posts should be relevant, interesting as well as entertaining to the audience. Constantly adjust with the strategies for maximum return.
Wind up:
So, now whenever you wish to develop a social media plan; make sure that you keep in mind the current trends. You can always get in touch with experts to stay updated with recent trends.