If we talk about digital marketing trends of 2015, then we can come to know about enormous ways to drive maximum website traffic and if we closely look at SEO, many channels have emerged but still the main thing is Organic Search which is an unending SEO category.
More than 50% of traffic is derived from organic search and after paid search; email marketing, display and referral marketing are the effective ways that drive good traffic.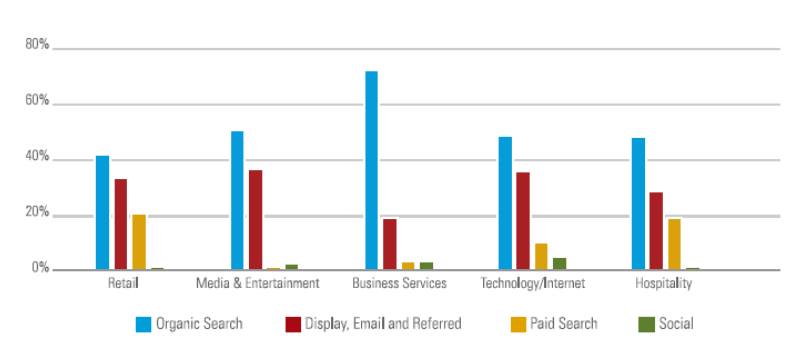 If we consider business service sector then 60% traffic or more is derived from organic search. Display, email and referral marketing bring nearly 20% of the traffic. Among these three, email marketing is the perfect traffic driver but instead of email marketing it's good to use referral marketing.
Hence, this blog post is prepared keeping in mind the ways to maximise referral marketing without investing a penny. Let's read ahead to discover how it can be done:
Evolution in SEO field: In the middle of 90's, page indexing was started and then came into existence the term known as SEO (Search Engine Optimization). If we compare those SEO days with today's regular SEO strategy then we can say that business should entirely focus on improvement in keyword rankings which will definitely help to increase traffic.
SEO & Social Media: An effective way of improving Off- page SEO strategy is to make Best use of Social Media Sites. Any business that has an effective outlined SEO strategy and focuses on some low value searches can be made more visible with the use of social media.A perfect social media strategy can increase the flow of social media sites like Twitter, Face book and more. This enhances the rankings and provides more traffic and visibility. The thing of more importance is tweets and shares also appear in Search results in real time. It's important to have key market influencers for your content.
Influencer Marketing for SEO: When SEO and social media go hand in hand, chances are there to get maximum traffic so that business can be taken to next level. Off page SEO is measured by number of shares and also the influence of re-tweets and shares of the content.Content influencers can maximize the audience reach on several networks which in turn can have positive effect on Off -page SEO. Knowing the key influencers and ensuring that the content shared is one of the most important SEO techniques that are generally avoided.Developing an influencer marketing programme can render bountiful of benefits like as Lead generation and sales however small benefits should also be considered like more number of shares and constant improvement in SEO strategy. This technique helps to increase the chances of getting more rankings or getting the content reposted in well known key influencer blogs.
Some Tips to make an Effective Influencer Marketing Programme:
Know your key market Influencer
Develop unique content
Share the content as much as possible
Maximize social shares from influencers.
Rate your relationships.
A simple tweet from Marsh Collier about Influencer Marketing:

Wind up:
Hope this gives a good insight about the usefulness of influencer marketing so that one can easily use it for online business. For more such latest updates, stay in touch with Platinum SEO, SEO in Melbourne rendering result oriented SEO services.