We all are aware about Android's latest version Marshmallow but we are unaware about its specifications or how it is different from other Android versions. Here's the entire list of features that developers must be aware about so that they can easily take advantage of the same.
So, let's begin and take a look at these specific features:
Android Marshmallow is considered as one of the effective release of Android operating system. It has lots of improvements as compared to other versions. These boost the user experience. It basically includes stability and security thus focusing on speed and battery life.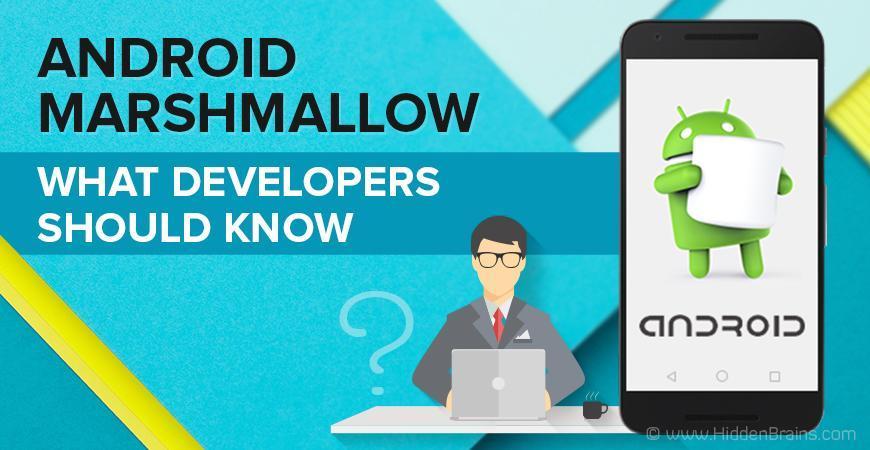 This operating system has lots of new features like as "Google Now" also known as Now On Tap, Doze and Fingerprint authorization.
Let's take a look at the top features of this Android version that developers must be aware about:
Fingerprint Authorisation: If you are using Android Marshmallow then you can relieve yourself from the worries of remembering passwords of several accounts. Android Marshmallow has system level fingerprint support through its new fingerprint API.

Here, your hand is the key to easily unlock your Android device. So, now no need to remember those passwords or patterns just a fingerprint is enough. With this; one can securely navigate using Sign in, Play store as well as in apps.

With the use of native fingerprints; developers can create unified apps that need fingerprint authorization for payments and other such confidential tasks. Android pay and various other payment systems that rely on fingerprint scanners now can be easily handled by Android.

Hence, there's no need to add any third party add on.

App Permission is controlled by Users: Have you find yourself getting frustrated from permission requests? At the time of system installation, Android asks for certain permission requests.

This got changed completely with Marshmallow. From now on, Apps will only ask for permission of those things where it is extremely necessary. This results into smoother user experience and hence make things much clearer thus allowing you to see exactly the app performance in the background.

Apple Pay: This sounds really surprising that Apple Pay is available in Android. With this version, all new mobile payment systems will allow you to make purchase from various stores using the phone's NFC chip.

Android Pay also helps you to make purchases on phone like as paying for an in-app purchase. Google Wallet; Google's original mobile payment app is slowly changing the way people manage payments among friends, family and others.

Google Now: It is Google's virtual assistant that offers weather updates, travel reminders, news and content based on your preferences. This tries to improve the entire search experience.

It offers real time context to searches and content to improve search experience. So, now there's no need to switch among apps. With this feature, you can use the Home button to get the information you want.

Doze: The battery life has been an ongoing issue with Android operating system. With Doze, these problems can be solved easily. This means whenever the device is in idle condition it will get into off state.

Let's say if you are not using any app for some timeframe then it will directly go into off state. This means the phone will last for maximum time. The device will be non functional in this mode as Doze allows alarms and key notifications.

With this feature; apps will not keep on getting updated on its own.
Take Away:
With these important features; Android Marshmallow can easily revolutionize small things that people can appreciate in their day to day lives such as individual app permissions, native support for fingerprints and granular context features for Google Now.
These new features will help developers to reach new heights in Android App Development by offering better app to app communication.
We are sure that this blog post will definitely catch your interest because it has something new related to Android. Mobile app developers will especially get benefitted from this post.
Let us know your reviews about the same. Stay connected with Platinum SEO; a well known Mobile app development company in Melbourne.