What we want when our website is on any online platform? Simple, we want that many visitors must visit it and how can they do so; only if they find it among top search results. How is this possible; with proper tricks and tips to boost online presence.
Now, just read the second line again in the above paragraph "Just visit it". Will only visitors be useful to any online business? Do you think visitors will actually lead to boost in revenue?
The answer here is No.
More visits less leads can throw a business into huge loss. Hence, it is necessary to get leads equal to visits or may be more. Suppose you have an offline store, customers are coming; viewing the products; but no one purchases a single thing from you. How will your state of mind be at the end of the day?
Same is the case with online business; people come; visit your website but no one performs the check out process. So, what will you feel? Here, to boost sales; generate more leads, it is necessary to optimize conversion rates.
How can this be done? By making proper use of CRO; one can easily bring spurt in current website traffic. Conversion optimization is slowly gaining importance as one of the widely useful digital marketing methodologies.
Higher return on investments, reduced effort levels and straightforward results can make it an appealing option. However, sometimes this may be misleading. When we think about conversion optimization, it means to get maximum attraction from people.
What exactly CRO is and how it can be utilized to the most?
When it comes to CRO, people mainly focus on tactics. These are focused the most. Certain articles deal with single tactics or top tactics that can actually help to boost conversion rates. So, what these tactics are?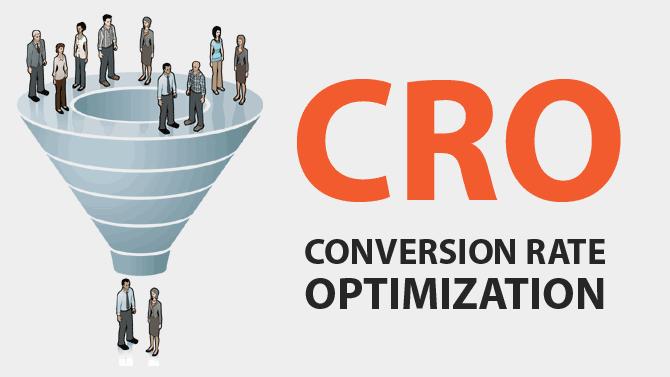 Basically, these are the ways that help you to boost conversion rates. Tactics is the only way to implement conversion optimization.
Some of these methods are as follows:
Split testing: This is one of the techniques that can be recommended to increase conversion rates. Testing is more useful as compared to any other practice. But sometimes, it can create blunders.
Minor changes: Minor changes can sometimes lead to big change. However, there are very few changes that can actually matter us. It is like conducting several number of tests but you will get only 10% of them as useful in increasing the conversion rates.
Changes in Call to Action: It is necessary to check call to action of any website. It is the legitimate focus of conversion improvements however has limited ability to change the things without focusing on fundamental issues.
Other tactics include colour changes, button changes, improvements in shopping carts, shopping cart process improvements and much more which are involved in boosting the conversions.
What is at the core of Conversion Rates?
It is not tactics that is useful however the main thing is to know your audience deeply, what they want, what they don't want, what are their interests, what they prefer, their likes and dislikes and lots more.
Tactics are only useful when you actually are aware that what exactly your user wants. Once you become aware of the same then it applying these tactics can help you to get desired results. If you know your audience properly then only you will be able to decide what to test and how to test.
Similarly, talking about other tactics such as colour; changing button colour can also lead to increase in conversion rates.
But how can you identify what colour is opted the most? Now this can be possible only if you have properly examined your user base, identified the choices of your audience, done research on psychographic factors, conducted A/B testing and also done split testing for few colours.
Based on this data, you can then know which colour is more suitable and then you will be able to change the colour which will finally increase the customers. So, it is highly recommended to spend some good time in knowing your target audience and then you will be easily able to apply techniques to advance conversions.
A perfect Conversion strategy must be as follows:
Conduct a proper research to know your audience, understand them properly in such a way as if you are the only one who can fulfill their needs.
Do testing of various changes based on demographic and psychographic tendencies of your target audience.
Finally, apply all of your tactics to get the desired results.
Let me tell you an important thing here; there's no such thing like best practices. So, stay warned. This shows that the firm has no or very less knowledge of its audience. We use several conversion optimizers but these may be just tactics.
Every effort made without properly knowing the audience can lead to failures. Many agencies even fail to do this task. Hence, a business owner must be very well aware about the audience for which his/her business products/services are made.
Brief Note: In a nutshell, the first and foremost thing to increase conversion rates is to keep in mind the audience, know about them completely so that business owners can serve the products accordingly.
So, next time you think of the ways to boost conversion rates; make sure that you are completely aware about your audience and provide all the services that suits them and based on the needs, you can prepare a perfect strategy which will help you to maximize conversion rates.
Wind Up:
Now, no longer usage of unknown resources; unknown methods that don't generate any results. It is the time to opt for perfect resources that provide actual results. So, for more such updates, stay connected with Platinum SEO; Local SEO Melbourne firm providing conversion optimization services at affordable costs.
Feel free to get in touch with us for a free quote. Just type your website address in the search box available on our site and get the complete analysis of where you are lacking. Solutions will be provided based on the analysis.