When it comes to digital marketing; we all believe that most of the work is done online. However, we are wrong on this path. Certain electronic Gadgets like as Television also play a huge role.
Now, this line may surprise you. You may re- read it again but its true; Yes Television has a good role in digital marketing.
Here's how:
When it comes to marketing; marketers are very well aware that impressions matter a lot. The more impressions you get, the more you crave for. These are some of the most valuable metrics in the game.
Television is a tool that helps us to gain as many impressions as we want. We can say that it plays a major part in gathering impressions in bulk. TV ads are trusted the most by consumers as compared to that of online video ads.
It is a medium that resembles with people as a means of legitimacy. However, it is necessary to know how to use them.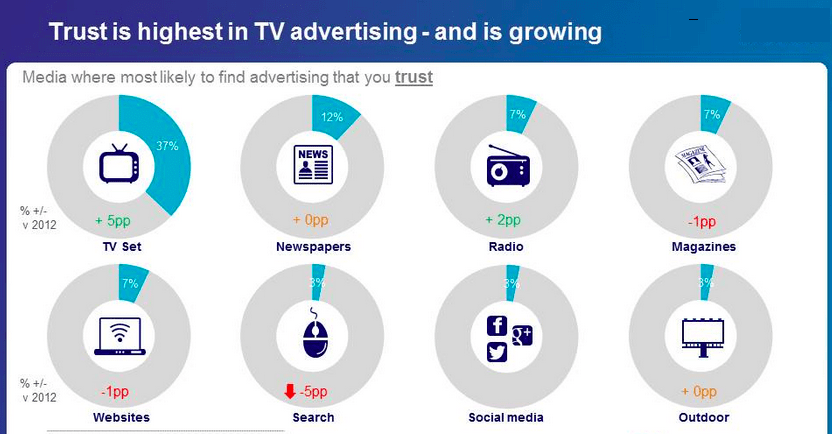 It's all about Numbers: So, we can say that if you are aware about your cost per lead, cost per acquisition, customer lifetime value etc. then TV can serve as the most effective tool. It is a good trap created to catch attention from customers.

The numbers help us to decide whether this medium will be useful to us or not. Hence, it is necessary to identify the position of the organization before making any decision. First of all, identify the customer time line; this will help you to measure success.

Look at the revenue of past 12 months and divide it by customers you have at present. Let's say; 1 in 5 leads get converted into sales then it is viable to spend $10 to 15 per lead and then maintain a break even.

Identify your target market and Assets: Once again take a look into users' data for age, gender, income, and geography as well as job title. Then, find which images, copy as well as call to action are most attractive.

Which Pictures help you get meaningful response? Which copy helps you to drive the sales every time? Go through the entire sales funnel apart from just click through rate.

You may feel like this is a lot of work however identifying your target will help you to get dividends thus helping you to get measurable results for TV.

Deliver your message Perfectly: No matter how much hard-work you need; but you must do it so that you can get your message on brand. You must have a team to work on which can help you to scrutinize every word.

You can also hire a copywriter to help you out. If it's out of your budget then you can get this process done by your team members. If the reaction of team members is not positive then how come audience can have?

Hence, try out to deliver the perfect message in a perfect manner.

Test and Alter: Once your campaign is ready then you need to test it via digital. This is one of the effective ways to do testing and get meaningful data. Know which audience have good response on your advertisements.

Who can buy spots in the demographics? Digital tests can be conducted on various social media platforms like as Facebook. You can also conduct surveys on various websites like as SurveyMonkey.

The bottom line is get everything tested perfectly before you actually land it on TV.

Keep Cash Ready for Production: A 30 second spot on television is worth thousands of dollars. Yes, this investment is quite useful and there's no second thought in that however failing to have proper production can lead all your efforts in vain.
Create a Perfect Captivating Campaign: It is necessary to get involved in all types of stuff like as Staff, lead capture, retargeting etc. One must have sufficient inventory, resources to deal with people, fulfill orders and hence for all these, your staff must be trained completely.

Make sure that your efforts completely result into sales. So, try out email acquisition and retargeting. Remarketing campaigns will display one type of message to people who are visiting the site in five days and then there's another message for those who visit in another 15 days.
Take Away:
We may not consider TV as an important medium however it taken seriously and if proper efforts are made then sufficient ROI can be generated by targeting specific audience.
So, now think of this and develop a good advertisement of your firm so that you can use TV as a tool to get lots of income. Hope you liked this blog post? For more such guides, news and updates; stay tuned to a well known SEO Adelaide Firm, Platinum SEO.