Before few days, we have discussed about Google Adwords Location Customizers. What are they and how they are useful? Today, in this blog post; we will discuss how AdWords Location Ad Customizers can be useful.
How Ad Customizers are useful?
Adwords Location Ad Customizers show Pay per click way to target particular audience in particular location. With these ad customizers, one can change the details in the PPC ads such as colour details, price, size, dimensions, countdowns, sales, events as well as seasonal sales.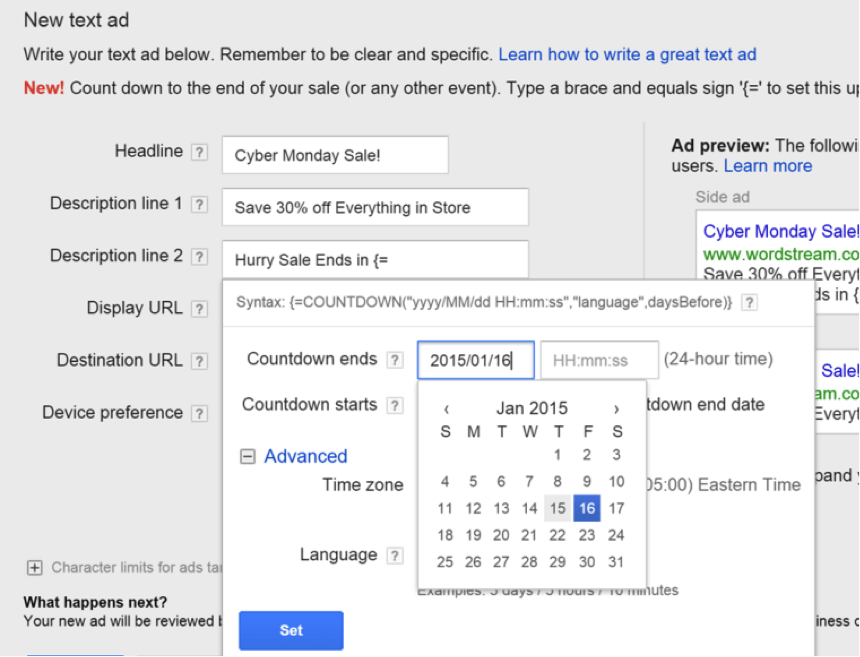 Let's say you are managing huge number of ad campaigns then with ad customizers you can easily make quick changes in the spreadsheet. Once the changes are done then this spreadsheet can be uploaded to Adwords and then see if all the updates are utilized in the campaigns or not.
This makes the customizers completely automated and the spreadsheet is updated then all other upgrades are quickly generated. Thus it saves lots of time. Among the well known marketing strategies, precision is one of the most useful ones.
With location ad customizers, one can easily target the audience in a specific location. These customizers can be used in several ways to get superior results. When any user meets your criteria that are mentioned in the group of ad campaigns then the ad text can be updated accordingly.
Depending on the location, one can use these customizers accordingly.
How Shipping Times are useful here?
Location Ad Customizers include shipping times as well. Hence, if your ad displays the shipping time and if it's less than the competitors then there are chances of you getting more customers. With location ad customizers, places where you deliver the products are also mentioned.
Including these details will help you to get more customers. This will be useful to all those customers who are residing in the nearby as well as in that location which you have mentioned in the ad customizers.
Such ad campaigns help to boost conversions as well as have proper conversation with the customers as they are drawn by the factors like as proper display of location and shipping timings. Such ad formats will definitely appeal to all the audience who are involved in purchasing the products from you with a surety in mind that these will be delivered on time.
Include the User's Location in Ad Text campaign:
While searching for any product or service, users also include their location. Hence, if this location is included in the ad text campaign then your ad is more likely to be clicked by viewers. This saves lots of time along with good content available in the ad text. This will boost conversion rates to an extent.
Now, the time that is saved as the location is added automatically can be used to create more such further ad campaigns which are targeted for your location so that one can deliver the products. So, along with time savings, location ad customizers have all the key information of the ad campaign.
Address, Duration and Offers:
Let's say you are successful by adopting this method of adding local extensions. Here, one can increase the effectiveness of the ad even more by including the required details such as Phone number, address, E-mail as well as working hours of the location.
Also, by adding some discounts and offers; one can drive more customers as they can choose the one which provide them good discounts as well as is in the same location and this will help you to compete easily.
With Ad customizers; one can easily update the details like as changes in closing and opening time as well as different offers for every day. Such ad campaigns can bring in enormous people who are really interested in buying from you.
Including Service Cost:
Now, you are not going to charge same price in every location. The price varies as per the location as no business is here to make loss. But still, it depends on the business owner if they are willing to keep unique price for every location then they can.
Buyers consider price first. So, it is mandatory to take extra care of the price and keep those that help you to stay in the competitive world. If you are offering best quality prices at nominal rates then obviously buyers will come to you and will make your ad campaign more successful.
These prices must match the user's spending capacities so that one can have good returns on investment as well as proper conversion rates and this will help to boost sales by leaps and bounds.
So, one must include proper price in the local ad customizers so as to increase the amount of prequalification of clicks.
Wind Up:
Next time when you create a local ad campaign using Adwords Customizers; make sure you include all the above mentioned things in the advertisement as this will serve as a perfect way to strengthen sales.
Hence, let's see how it works for you. In case, you find some difficulty then do share that with us. We are always eager to know from our readers and viewers what they think about the post and how it has been useful to them.
Kindly share your feedback with us as this will help us to improve our article quality as well as allow us to give you more of such information which can be useful to grow your business.
Want to discuss more in detail? Then get in touch, Platinum SEO; Local SEO Sydney.