Create Urgency and you will get more customers. This is the idea that every business uses to get more customers. It helps to increase conversion rates. Why is it so? Well, lets' understand this with an example.
Example: Suppose you have seen an ad which shows "Hurry! Offer Valid till stock lasts". Now, here urgency is created which shows either purchase the product quickly or lose the chance. People will think either they have to take the action to avail the benefit or lose the offer.
So, people will take action which will result into increase in conversion rates.
This shows how urgency works to bring more customers and so offers like Black Friday usually generate more sales as compared to those during normal days. Business owners tend to make most use of this urgency to get maximum offers.
Some even add a countdown timer on the product page and this has led to drastic boost in conversion rates.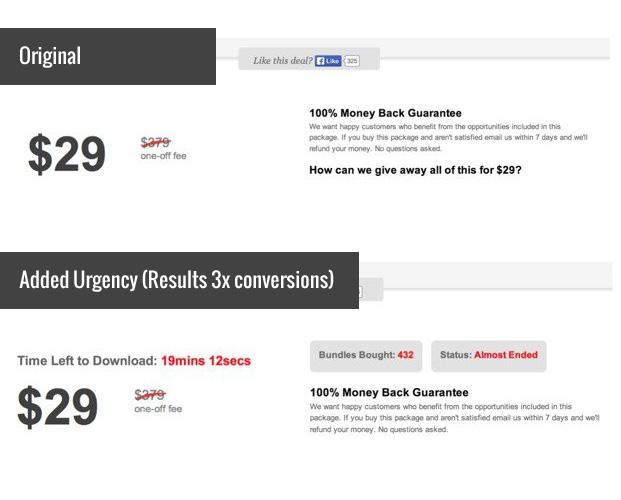 Apart from this, Countdown technique; Coupon theme also serves the purpose. We have seen eCommerce sites
gaining more conversions
with the use of various coupon offers like as 13% off on purchase of $500 and above and lots more.
So, you can also start adopting any of the urgency techniques to increase conversions but make sure this doesn't affect your overall profits.
How Urgency Works?
Let's say there's fire around you and there is no way to escape out. Now, what will you do? Your brain will start thinking about the ways to escape from the situation. In the same way; during urgent situations; brain just wants to act instead of thinking for a moment and this leads to quick action from the buyers.
We can see eCommerce sites like Amazon adding deadlines to our purchase. Like as, if we order the product now it can be delivered within four hours at our home so in this case customer will instantly click on Buy it now.
There are different types of urgency techniques available and these are as follows:
Time Based Urgency and Scarcity Based Urgency: Basically, these are the two main types of urgencies that we can usually see. Time based urgency is easily understood. This is when you see a countdown on any website that shows the time left for the offer to end.Scarcity based Urgency on the other hand is when the advertisement shows that there are limited products available in the stock. This is mostly seen in eCommerce websites.
Creating Time Based Urgency: There are various different ways to create time based urgency. The most obvious one will be to add a countdown timer on a product page till the time the product is taken offline. This strategy is very well adopted by Groupon.Another way to create such urgency is to include some phrases or sentences in the product description which shows that the product is in limited stocks. So, instead of showing the Countdown; just write "limited time remaining".

There are several other words which can be used to create time based urgency and these are as follows:

Limited time
Hurry
Rush
Deadline
Last Chance
Offer expires
One day only
Don't delay
Act now
Final
And lots more.

One can do it in either of the ways however it is necessary to make sure that time is easily visible. There's no point in including the urgency if only few people from the entire traffic take notice of that thing. The colour scheme must get changed so that it can be easily highlighted.

To get the urgency noticed, it is advisable to use red, orange and royal blue colours. Royal blue and orange colours help to boost impulse buying decisions.

Creating Scarcity Based Urgency: There actually needs to be scarcity and then only it will work. Let's say you have 50 products available in stock but you show there are only 5 available then this will waste all of your hard earned efforts.So, always mean it what you say. If you say 5 then actually only 5 must be left with you. In case your products are not selling and you wish to get them out any way then again here you can imply this scarcity based urgency.

In such situations, don't tell the exact quantity but explain scarcity in such a way by using some different words that people should actually feel it. Make use of properly worded triggers.
How to identify what will work for you and what will not?
Now, we have learnt about both; time based urgency as well as scarcity based urgency but it must be known as to what will work best for us. So, let's understand what urgency one should opt for to get more conversions?
Check the effects of both types of urgency; time based as well as scarcity based. Also you can try to use the combination of both to check what works best for your audience.
Let us know your experience after using these urgency techniques. Let us know how you feel once more and more products are being sold. We will want you to explain the difference between sales after using the urgency and those before using it.
If you find any other extra tips then do share those with us and let us know how these can be implemented on any website.
Wind Up:
Hope this blog post from well known Local SEO services provider; Platinum SEO will help you to understand urgencies in proper manner and will show you the perfect method to use them.
If you wish to know more of such conversion optimization tricks then get in touch with our SEO experts who will answer every question of yours in such a manner that it will help you to improve your conversion strategy thus helping you to generate more leads.
So, stay tuned with us. Let us know your detailed requirements; try our free quote and we will assist you with every SEO aspect.