Do you use Google Analytics? Do you use Adwords Conversion Tags? Well, if you use both then you must be very well aware about the difference between the two. If you are unaware then this blog post will help you to do so.
Here, you will find the answer for the same. Now, this means that you have moved into an upper level of data analysis territory. What's the need to know the difference?
Why you should be aware about the difference?
One must have a general understanding of reporting options which let you know your return on investment. Online marketing is not any one's cup of tea. You spend maximum amount and hence you must understand what your KPI actually is?
It is common to misinterpret the data. Hence, to understand what you are measuring; it is necessary to know where you have invested. This means different things for different people. Let's say for accounts manager; this means budgeting, bidding strategies, targeting and finally being affected by the measurement selected on our own.
CPA, ROAS as well as eCPC bidding generates all the different results as the actual acquisition is to be evaluated with different models. Goal influenced bid adjustments such as Geo- modifying and Day Parting decisions are easily based on different data.
Goal based automated rules generate different results.
So, how these two differ?
Google Adwords and Google Analytics evaluate the goal completions, conversions in various ways. This is one of the factors that differentiate both from one another. The Analysis will then be influenced by the type of goal tracking that one decides because one relies on various attribution models when one is about to complete a goal.
Google Analytics Attribution:
Google Analytics entirely depends on Last Click Attribution model. This means that last non direct channel that brings users to your site before the Google Analytics Goal is completed is the channel which receives the entire credit.
Under this model, Paid Search channel goals were easily completed especially with Google as a source and it is the indirect step in the users' behaviour path that is credited to Google AdWords. Adwords for conversion tracking and attributed back to specific campaign, ad group as well as keywords that help to achieve goals.
Here are the different channel based paths:
Referral > Organic Search > Email > Paid Search > Organic Search
Referral > Organic Search > Email > Paid Search > Direct
Paid Search > Organic Search > Email > Direct
Paid Search > Paid Search >Paid Search > Organic Search
Among these, the first one was taken from Google Analytics to Google Adwords.
AdWords Conversion Tags:
AdWords conversion tags develop a different model when conversions are attributed back to the campaigns, ad groups and Keywords. This model reviews AdWords performance separately.
This attribution modelling completely checks the conversion paths and offers 100% credit to final paid search interaction which is known as Google Adwords.
If we talk about Google Analytics; then here the conversion tag is ignored as all goal paths have Paid Search channel as a influencer. Paid Search didn't actually generate the final interaction before goal completion.
Google AdWords Conversion Tag would attribute the entire credit back to the Campaign including ad Group and keywords that were involved in the path.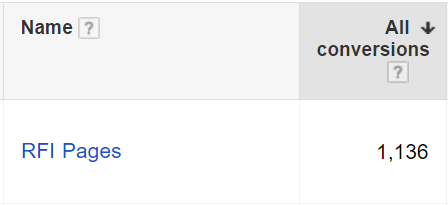 IF we take a look at the data from Google Adwords as well as Google Analytics then you can see it shows the leads that are submitted during identical time periods. AdWords take credit as lead generation source very often as compared to Google Analytics report.
Which one should you select?
Both of them are preferable, however the best relies on the reporting needs and on the need that how much one can attribute back to Paid Search Channel. So, if you are tracking all these conversions then you may be at the right track.
If you see that paid searches help you to get higher sales volumes and at higher frequency then you must depend more on Last Adwords Click attribution and switch to Google Adwords Conversion tags.
This can help you to have maximum number of conversions in the AdWords account. This means that all the conversion based features can be used in a powerful manner.
Take Away:
So, whatever method you opt for conversion tracking; always keep in mind the decision in data. Review goal conversion paths and Google Analytics multi channel reports will provide better understanding of how paid search works.
Hope this blog post will be useful to you. Let us know how it helped you? For more such tips and guidance, stay connected with Platinum SEO; a company offering affordable services of SEO in Melbourne.