Most of the agencies offer services to both B2B as well as B2C sectors. But have we ever thought about the difference between the two? Are the SEO Services same for both the sectors or is there any difference?
Yes, this is the topic that we are going to discuss here today. Let's begin our discussion:
B2B SEO Campaigns are quite different as compared to B2C campaigns. B2B SEO Campaign includes a strategy relevant to particular field. This is a longer process as compared to other normal strategies.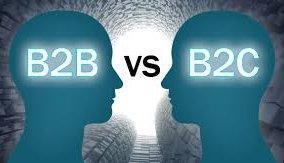 There are lots of differences here in terms of sales and purchases processes, it's an agency that must have deep business understanding. The B2B SEO approach mainly depends on the nature of the products, their life cycle as well as its potential to fulfill the needs of the customers. These include keyword research, content strategy and lots more.
Among these, one of the main differences is between B2B and B2C, five of these can easily define the perfect way to handle SEO Campaigns. These are as follows:
Main differences is between B2B and B2C as follows:
Different Product Tangibility: B2B and B2C sectors deal with different product categories, services and more. Hence, it is necessary for every agency to know the goods and services that are sold at the beginning of the campaign.

B2B campaigns mostly sell intangible products that are preferred the most for benefitting customers' business apart from just the client.

Various Performance Indicators: The evaluation of B2B and B2C SEO Campaigns vary. In B2B sector, the qualification of leads matters the most instead of the lead volumes whereas in B2C quality is considered as least important indicator because the purchase decisions in B2B take more time than those in B2C sectors.
Life cycle of Sales: In B2B sector, the users' intent is to be known so as to become aware about the information required by the prospects. The sale of B2B entirely depends on various considerations like as various managerial layers. Hence, the area of focus of B2B sectors is completely different as compared to that of B2C sectors.
Role of SEO: Knowing the sales cycle and user intent in B2B; content marketing campaigns as well as outreach campaigns with B2B SEO Strategy should make the prospects aware about the services and products rather than just gathering links for better rankings.

B2B SEO must showcase the services of their business on relevant websites.

Types of Keywords: One of the important stages of B2B SEO Campaign is Keyword research. SEO Agency must offer an expert level of industry specific intelligence so that one can find the user's needs.

Always ensure that your SEO agency offers you proper keywords and anything that is run completely must be considered as a warning sign.
So, in a nutshell; we can say that B2B and B2C SEO Strategies vary in following ways:
B2B SEO Campaigns sell intangible technology while B2C campaigns deal more with tangible products and services.
B2B SEO Campaigns tend to get less leads and this is their performance indicator while B2C Campaigns concentrate more on sales and revenue figures per month.
Sales in B2B are long as compared to those in B2C sectors which are short based on impulse purchase. A B2B transaction can take up to 24 months to get converted whereas B2C sales take place from minutes to weeks with maximum decision makers.
Content Marketing in B2B strategy is much more than such focusing on outreach and back links where as that in B2C is to get back links along with increase in ranking as the main goal.
Take Away:
Hence, now it will be clear to you what strategy will suit your business the best and thus you will be able to select the perfect firm that offers you perfect SEO Strategy related to your business.
For more such details, stay tuned with Platinum SEO; a well known SEO Brisbane Firm.