We all know that people from different regions speaking different languages surf internet. It's not necessary that everyone must know to read English language. Hence, a website owner must have a multilingual website which can be used by many people all over the world.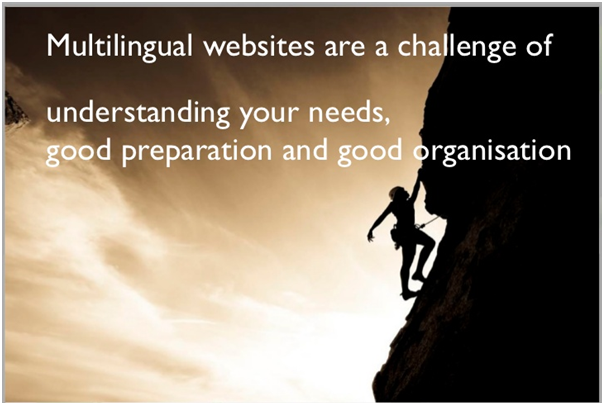 Hence, it's advisable to have your website translated into several languages and make it multilingual in order to make it easy for people to browse it in their own language. However, translation process must be smoother and simpler one.
Yet, it's hard to manage the multilingual website but not impossible. Many more things are to be considered and decided before actually deciding to start creating a multilingual one. Yes, but once planned and executed, the result can be very effective.
Some Best practices that must be followed to develop your business
Proper Research is needed: Make sure to do proper market research to identify which languages are most preferred by your target audience and that which can help you to grow in your business.Bountiful of resources is available to examine the competitive market and identify the places or regions where your products and services will be more in demand. If you are into eCommerce field then you can easily get the language statistics showing those that influence the buying power.
Develop the Design keeping Translation in mind: While developing a new website or redesigning the current one; always make sure to create the one that is quite responsive and follows all best practices for multilingual websites.
This includes certain aspects such as coding, writing or graphic design and always assign the task to the web developer who is aware of the needs of the multilingual websites.
Suppose you have an existing website and you wish only to get it translated into some of the selected languages instead of redesigning it completely then here are some things that must be considered:
Alter your Design: In case you don't have a responsive design then first of all it's mandatory to have one. The reason; now days Smart phones have become the main device often used by people for searching things on the internet.
Select the content that can be easily translated: Keeping in mind that your website must be translated into various languages you must select the content accordingly. For that, it's necessary to know the parts of your website that are most important to the people in other countries.Are you going to sell limited goods or going to start selling your entire product range in other countries? Select what is to be included in the content keeping in mind the countries where your potential visitors belong to.
Perform cultural examination: Before translating your website into several languages, it's advisable to do a pre translation cultural assessment as this will help you to determine any elements that may cause difficulty in translation for various reasons.

Choose a perfect language partner: Always assign the translation task to any trusted source especially the one who has expertise in website translation. Language partners must be able to communicate easily with the web developers.
"An important thing: Avoid relying on Google translate."
Different Language sites must be linked via language menu: Once your website is ready in different languages then is the time to make them visible and this can be done by linking them through language menu which makes it easy for users to choose the language they actually want to visit the website into.Every language in the language menu must be visible in its own language. For instance: Spanish should be read as "espanol" in the language menu). Avoid using flags to mark the languages.
Plan for International SEO: After developing a multilingual site, now it's time to think about how customers can find it easily on the local search engines. Here, comes the need to boost your website multilingual SEO.
Some main points that must be covered under Multilingual SEO are as follows:
Decide your targets: Know the target audience for every language specific site, whether they are from one particular city or entire country?
Select the URL structure: The foreign language sites can be structured as sub domains of your main site, subdirectories or even separate URLs. It depends mainly on your target audience.
Site hosting is important: Host the site based on your target audience.
Multilingual Keyword Analysis: Identify the best keywords instead of translating the existing keywords. Refer to the particular local search engines like as Baidu in China or Yandex in Russia to know proper competitive keywords for respective regions.Remember different countries have different search engines popular there, Google is not dominating everywhere.
Make use of Proper coding: Proper character encoding must be used like as UTF -8 can handle any language and Google's hreflang annotation must be used in HTML, HTTP header as well as XML sitemap.
Translate everything properly: Everything including meta tags, descriptions. Tag attributes, page URL addresses must be translated perfectly.
Off Page SEO must be kept ready: Back links from other sites in the same language, pay per click advertisements to get more traffic must be used. Social media strategy must be planned depending on necessary social networks.
Keep updating the site: A steady website will fail after sometime. Hence, make sure to update it on regular basis.
Wind up:
With these ideas, we are winding up today's blog post. For more guidance about multilingual websites, you can get in touch with Platinum SEO, Local SEO in Melbourne.