Content Marketing is one of the well known strategies used when it comes to online marketing. No one can deny this fact that nearly 27,000 pieces of content are shared every day. 90% of customers find useful information from the internet and nearly 68% of B2B companies having blogs get more leads every month as compared to those without blogs.
If we talk about the SEO field, Great content must be the key element of your online marketing efforts. So, how can one carry out these efforts?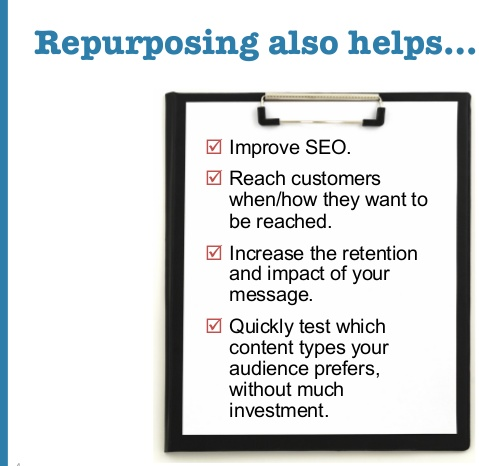 Truth about Content Marketing:
For many companies, Content marketing is a big deal because it takes lot of time, difficult to understand and requires professional assistance in order to get quick results. But, if performed correctly can prove to be a worthy asset to your business.
However, for every business there are two main points:
Long lasting content will help to develop quality search traffic and leads to maximum shares on social media thus providing more exposure to the business. But, on the other hand, it's expensive enough. Hence, either you need take assistance from expert Content marketers or get things done by yourself.
Whatever decision you take; here we have come up with some content marketing tips which will be useful to you and these are as follows:
Some Important Tips about Content Marketing
Make Use of Repurpose Content: Influencing your existing content is one of the important things that must be done to widen the marketing efforts. You can develop more links, alter your content and share as many things as you can on social media.Further, the time taken to generate more stuff for the audience can be reduced to an extent. Yes, every time it's different to get new ideas for your blog posts but to solve this problem, you can simply take one idea and represent it in several ways.
Types of Content that can be generated with what we have: First of all, get a piece of content from your website which has performed well and provided you many leads. The best content must include two things:

Search Traffic
Social Shares.
In order to see which blog post on your website brings maximum traffic, Login to Google Analytics Account and select Behaviour> Site Content> Landing Pages and here you can get the best performing blog posts.
Hence, you have the piece of content handy which proves your value to the audience and now it's time to make even most out of it.
Boost your content marketing efforts with these repurpose techniques:
Prepare a presentation: If you have got a post which serves the purpose of any presentation then select that content, make a power point presentation from it and use it to get more audience.This presentation can be uploaded to Slideshare and other such document sharing websites to get more links and traffic.
Create Info graphics: Found any post that contains various facts and figures? Then this can be used to create info graphic and share it on many social media platforms. Select some extra links and add embed code to it.
Various tools like Piktochart or Infogram can be used to prepare effective Infographics. Photoshop is also not bad if you are used to it.
Create Videos: Yes, simple text content can be transformed into videos. Make a video, boost your about Us page by adding this video into it.
Create Podcast: Yes, here podcast can serve the purpose. You can create a podcast in your own voice explaining the concept of any of the case studies that are accomplished in the past and any opinion written for your website.
Then, this podcast file can be uploaded on various platforms like SoundCloud, Sutros, YourListen and many others which you can find.
Have an eBook: An important aspect of marketing is writing an eBook. It's good idea to write a complete eBook about your business as this can add tremendous value to overall marketing goals.It can help you to get maximum sign ups, newsletter subscriptions thus creating your reputation as an expert in the field.
Wind up:
That's all and you are done. Follow these small tips and be ready to spread your presence everywhere on the World Wide Web. Apart from content marketing, several other strategies can also be adopted to boost your online presence.
The main thing is to think out of the box and keep generating fresh content which will keep audience engaged. To know about various online marketing techniques, you can get in touch with Platinum SEO, SEO Experts in Melbourne.