Mobile search is now increasing day by day and as a result, the focus of Google is getting diverted towards mobile. Previously, Google launched a mobile based algorithm that provides top rankings to only those websites which are easily visible on various devices.
Now, Google is experimenting with nine Android apps by using their app only content in mobile search results. It is a huge step for apps and Google search.
Recently, it has made an announcement that it can now index and rank app only content within Android. This content is available within the app itself and it has no other web counterpart. Google will now stream the content from those apps without the need for searchers to download the actual app.
How to get App only Content?
When apps were surfaced within Google's mobile search results; Google supported only that content within the apps which is directly related with the web as well. Let's say you had an app which shows you the nearby restaurants.
Google will link to those restaurant listings within the app only if there would be a corresponding web page. Now, as a part of the project; Google starts to index app only content which has no such related web pages.
Such content is being tested at present with nine apps. For English US results that run on Android. These apps are as follows:
Chimani
Daily Horoscope
Gormey
Hotel Tonight
My Horoscope
New York Subway
Useful Knots
Visual Anatomy Fee
Weather Channel.
Google has not made any announcement regarding further plans. Instead, it is a test to know the effect it makes on mobile searchers.
App Streaming Stimulator:
Let's say if you have one of the above apps installed then Google will provide you better rankings from its search results on Android and if none of these are available to you then you won't be able to see the results in Chrome.
These can be available if one is using Google App due to its new "App Streaming Feature" that is being tested by Google.
The app can run completely and one can book reservations in the app known as Hotel Tonight with the help of streaming feature. At present, this may not work properly as it is in beta state.
For using this app streaming stimulator; it is necessary to have Android 5 Lollipop or latest Android 6 Marshmallow along with a robust WiFi connection. If your device is lacking this version then you will miss these app only links from Google with streaming option.
This streaming option will launch Google Play app and run the app from the Google app and not the Chrome browser. This option is available if you find "Stream" button next to app results.
The image below shows "Stream" button in Google Search App: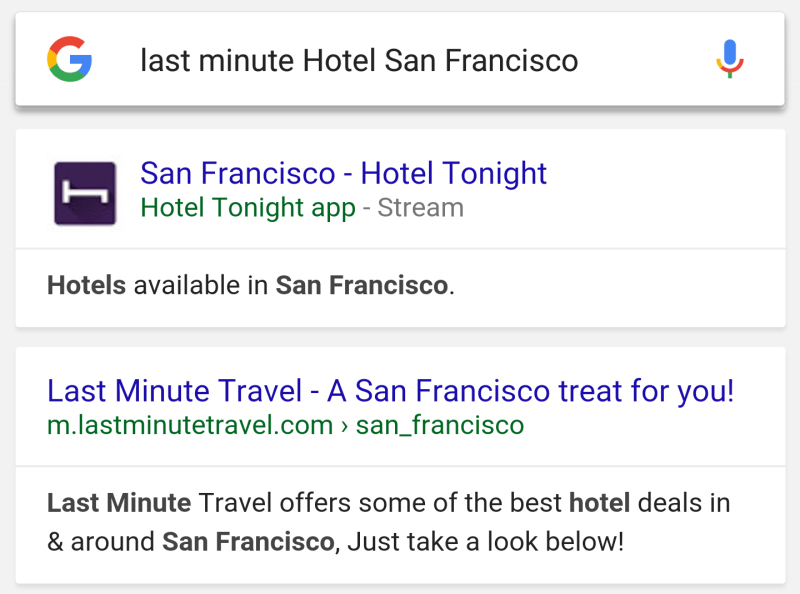 When you click on this Stream button; you will get a disclaimer that this is an experimental feature which can be used to access those apps which are not installed on your Android device. It sends your inputs to Google servers that run the app and stream the results.
If you click on the Google Stream banner that is at the bottom of the stream player then it will get reduced to a single G. This will then show certain options to install apps and learn more about app streaming.
In case, you have a weak Wi-Fi Connection then a notice will be displayed by Google stating that the net connectivity is not enough for streaming. Please check your connection settings.
Is App Only Content Supported by iOs?
Apple supports App Only content via universal search and universal links while at present Google has no plans on when they may show the same functionality level for iOs apps. It is an only feature that is being tested with Android apps and not the ones designed for iOS.
How can you get your apps included?
At present, Google has not introduced any feature where in current apps can be included in the streaming feature. But very soon, this feature will be available and then just there's a need to use App Indexing API and rest all things will be taken care by Google.
At present, Google is experimenting with this and if it gets positive results then more apps will be included in Android apps and potentially even iOs Apps.
Wind Up:
For more such details about this new streaming feature and how it adds app only links; stay tuned with us.
Platinum SEO; SEO Company Adelaide is an online marketing firm that has expertise in developing result oriented marketing strategies. Hence, we love to stay updated with current Google updates and so keep in touch with us; if you are interested to know more about latest hip and happenings of SEO World.