Are you searching for any local SEO Company in Melbourne? Are you in need of cost effective SEO Services in Australia? Then yes, you are at the right place. Yes, this blog post will help you to get connected with one such SEO firm.
But before that it's necessary to understand the type of SEO Services you actually need. Let's assume you own a Dental Hospital and wish to increase your online presence on the World Wide Web. But how? Who will guide you? What's the process? Such questions will definitely ponder over your mind.
However, there's an answer to all these questions which you will get here today. So, stay tuned and read ahead..
Case Study:
Wisdom Teeth Dentist is one of the dental firms in Melbourne. The problem was their services were good but still they failed to get good rankings in Google Search Results. This made them worried as they really were looking for someone who can help them to get ahead in search results.
The reason even though their services were good but they were unable to get good amount of customers and they were unable to identify the reason for the same. Yes, they used keywords as well but still all in vain.
One fine day they got in touch with one of the professional SEO Companies in Melbourne and discussed their needs with them. This firm suggested them some affordable SEO packages keeping in mind their needs.
The main aim of this dental firm was to be at first place in Google Search Results. Hence, this was the thing that SEO experts kept in mind and started working on the same.
Finally, with the well planned SEO strategy, robust efforts by the team within 6 – 10 months, the firm was seen on second and third position with different keywords. And then finally after sometime, this company achieved the target and brought Wisdom Teeth Dentist in the top results within few more months.
Yes, now if you type some keywords like Emergency Toothache Dentist Donvale, Wisdom Teeth Dentist Donvale, Wisdom Tooth Melbourne and more then you can find this firm on the top of Google search results.
Here's a Snapshot for the same:
Keyword: Emergency Toothache Dentist Donvale,

Wisdom Tooth Melbourne: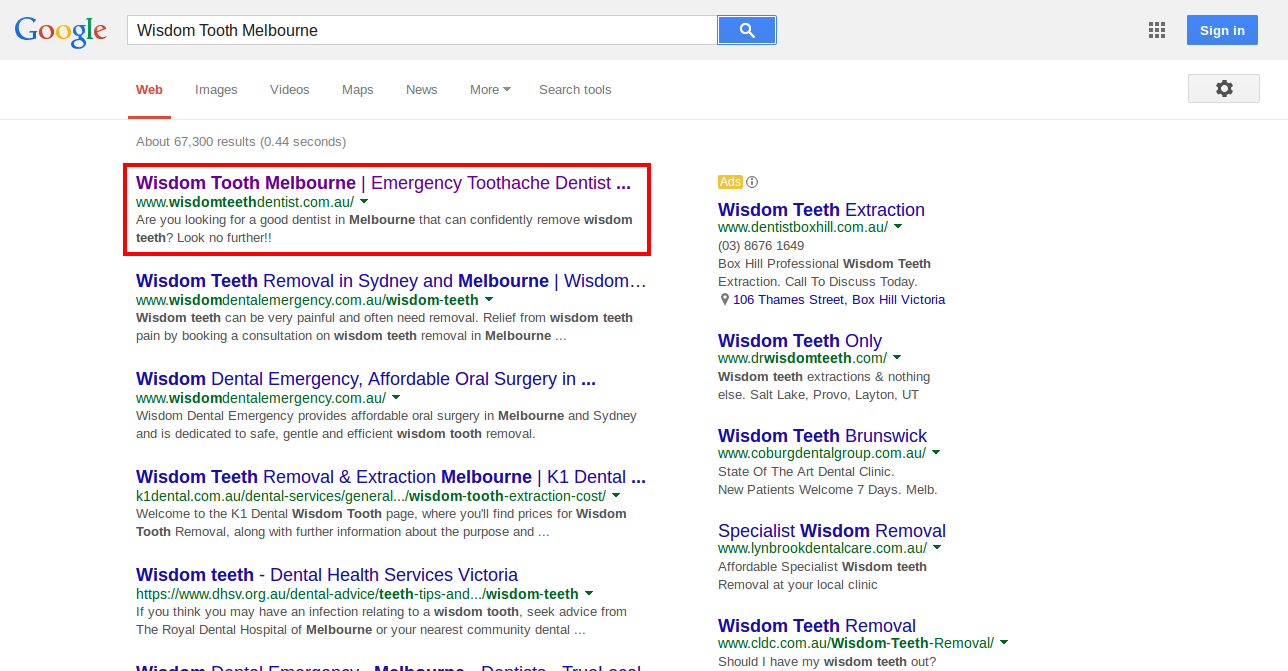 Hope this makes clear how expert this company is and yes of course, SEO is not a short term task hence it took time but finally the goal was achieved and you can assume how happy the client would be.
Wind up:
Genuine SEO Companies are very rare in this industry. The firm that can help you to reach heights is none other than Platinum SEO, one of the professional SEO Companies in Melbourne, serving people in the industry since years.
Get in touch with them today and discuss your needs to get the same customer satisfaction as the one availed by Wisdom Teeth Dentist people. So, what are you waiting for? Contact them soon and see your business reaching the heights by leaps and bounds.