Digital marketing changes from time to time. Never know when new updates get released and you may face troubles due to it. Today, you may not be affected by Google's algorithm but tomorrow there are chances that you get affected and your traffic reduces to an extent.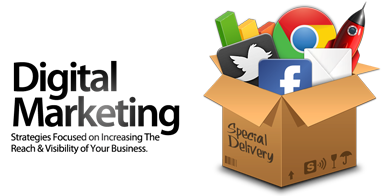 The world of digital marketing is always changing and hence for entrepreneurs it is necessary to keep certain things in mind which are as follows:
Keep certain things in mind about Digital Marketing:
More important than PPC ads: Before few years, Pay per click was considered as the one and only technique used in digital marketing. But today, it has very less impact. Still even today people spend thousands of dollars behind PPC campaigns because they believe it to be the only option in Digital marketing.Here, entrepreneurs must bear in mind that there are other methods as well which are far more effective than PPC. There's no need to cancel your AdWords account however you must be aware and stay updated with what's going on in Digital marketing world.
Digital Marketing is a bit expensive: There are people who believe digital marketing to be free. They are aware about the benefits of organic traffic and hence feel that traffic increases with some magic tricks.But, this is not true. Digital marketing is not any black hat SEO technique. It actually is expensive, it costs money and hence entrepreneurs have to keep some budget for the same. For making proper use of online marketing, sufficient amount is to be spent behind writing and publishing content as well as hiring professionals, carrying out various social media activities and every sort of things that actually are involved in internet marketing.

The main thing you need to spend time and money to get desired results, however if you spend it in right way then you will definitely have powerful ROI.

Content Rules Digital Marketing world: Internet entirely depends on content. Online marketing is ruled by thousands of articles, blogs, infographics, websites, journals, tweets, status updates, pins, posts, pictures, profiles and more.Everything that is mentioned here includes content. So, always remember "Digital marketing means Content marketing" and in order to maintain your presence, you must keep on generating the content and constantly updating your websites with the fresh content at regular intervals.
SEO is live: Yet another rumour that hovers in the minds of people is "SEO is dead" but this is not the reality. The reality is SEO still exists. Yet, there are thousands of myths regarding SEO that prevail among the internet users especially business owners.Till the internet is there, SEO will remain live. Yes, it will keep on changing and Google algorithms will constantly be updated but it won't die. You will see every few months, there's a drastic change in Google algorithms and this is important to maintain the quality of websites.

So, just be aware that SEO is alive and will affect your websites if they are not developed as per the standard Google algorithms.

Mobile Optimization: The hot trend of digital marketing world is mobile friendliness. So, in today's time if your website is not properly visible on the mobile devices then your website rankings will lower down to an extent.Google has now launched a new mobile friendly algorithm which checks whether your website is compatible with various devices or not, in case it fails to do so then it won't appear among top search results.

So, make sure to update your website and make it mobile friendly before it's too late.

Conversion Optimization: Optimize your websites as much as you can to get maximum conversions. Show what you have to offer and how it will benefit users; this will help you to get more conversions.Yes, this too is expensive but result oriented. However, you need to hire professional experts who are good at performing conversion optimization activities. If it's implemented in the right way and in the right direction then the ROI of conversion optimization will be surprisingly high.

Hence, give this technique a try and you will be extremely surprised by the results.
Wind up:
In this world of digital marketing, it's necessary for entrepreneurs to be knowledgeable and proactive as this helps them to take quick decisions. It's not necessary to be aware about every detail of digital marketing but what's necessary for your business must be known.
Hence, make sure to be aware about latest digital marketing trends and if you wish to get benefit of expert internet marketing services then get in touch with Platinum SEO, Melbourne SEO Services Provider.