Be it email marketing, paid advertising or search engine optimization; every digital marketing method has its own importance. Every digital media marketing channel has one goal i.e. to reach to the maximum number of target audience as well as to increase the online presence which ultimately results into increase in return on investment.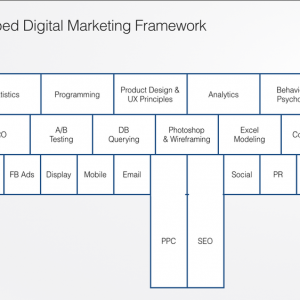 Everything about T Shape Digital Marketing:
T shape web marketing is known by some people and is slowly gaining popularity. However, such marketers are not experts but can be considered as jack of all and master of none. It is generally understood as a marketer having good amount of knowledge in every marketing aspect.
Actually, it is recommended that digital marketers must be specialized in a particular area of digital marketing but now days this T shaped marketing has started to gain importance. The reason; let's suppose Person A is a SEO expert but suddenly Google algorithm got changed so how immediate actions can be taken may be not known by the expert and during such situations, T- shaped digital marketing is useful.
This means a SEO expert must also have knowledge of PPC marketing as well as other digital marketing methods so that he/ she should not get worried when SEO strategy gets failed due to sudden change in Google Algorithm.
What are the benefits of T- Shaped Digital Marketing?
Having in depth knowledge in other areas of digital marketing is highly useful. This saves the digital marketer from unnecessary stress of looking for another job in case where SEO tricks sometimes may fail.
But instead, this is will help to get more understanding about the online marketing world. This will also help to understand the user reactions towards various landing pages on the websites and how these are used to an extent with paid advertising.
The one who is well versed in using analytic can easily understand how social media marketing affects return on investment in the business. In short, it is advisable to know every type of digital marketing technique so as to keep one prepared to work even when pre planned strategy fails.
So, now make sure that if you are an SEO professional then it's time to be all rounder in the field and know about every type of digital marketing technique. Even if you are the owner of any SEO firm, make sure your digital marketers are T- shaped Digital marketers who are efficient in framing every type of SEO plans including digital marketing as well as others.
Wind up:
Now, don't panic as this T shaped Digital marketing will be popular among SEO experts very soon and days are very near when they will soon get transformed into expert digital marketers as well.
If you wish to get your SEO done from experts then get in touch with Platinum SEO, SEO Professionals in Melbourne.