It is necessary for every business to measure the efforts of their marketing campaigns so that they know where to improve and how much to improve. With Google Analytics, one can easily do so.
This free tool allows marketers to make decisions related to data so that their marketing efforts can be easily streamlined thus increasing conversion rates and finally achieving business goals.
It is really surprising that several businesses are unable to make much out of Google Analytics. Hence, in this article; we have shared some of the advanced Google Analytics features along with various set up tips which give marketers some ideas to optimize their accounts thus using this amazing tool to their utmost advantage.
Here are three main views:
For average or small business; it is okay to have one property and in Google Analytics; properties have atleast three separate views for each of the properties. These three views are: Main View, Test View and Raw View.
The main view is used for daily reporting and analysis while the test view is for checking new goals and filters before shifting them to the main view and then the raw view is a complete back up of all website data.
Among these three, the most important is raw view.
Google Analytics also offers demographic information like as location, age and gender. It can help marketers to know their target audience well. It is necessary to activate this feature or you may fail to gather any data.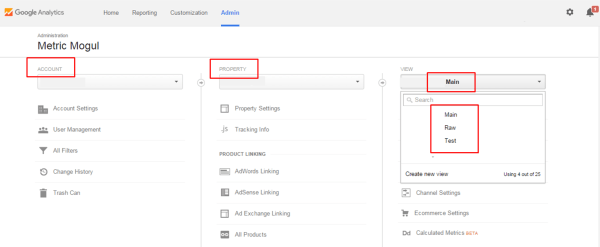 In order to activate it; just click Property Settings> Scroll the page to the particular part of the page and toggle to activate demographics button.
Filters: We always prefer to activate required filters on main and test views. Your website's IP address is a perfect example of the filter. One can also filter out spam from the account. During past year, we had seen dramatic spike in spam referral traffic thus making it harder to do perfect analysis of traffic sources.

After checking the spam site, just develop a filter excluding traffic from those domains.

Site Search: Let's say if your website's internal search is working fine then this must be tracked in Google Analytics to know the type of content and products our visitors need, boost their experience and know the gaps where no results are returned.

Activate the site search in the property's view settings knowing how it can be used in the website's search query parameter.

Activate eCommerce: It might be an obvious thing but it is very amazing to know most of the eCommerce sites lack proper eCommerce set up in Google Analytics Accounts. eCommerce tracking is not just about recording transactions.

There's lot more to do such as products seen, products that are added to the cart and the way internal banner ads perform.

Tag Manager: Try using Google's Tag manager; it offers ultimate flexibility to alter and create tags without wasting developer's time and money. It also checks whether the tags are properly organized or not.

One can start using old versions any time. Make sure to shift Google Analytics implementation into Google Analytics.
Take Away:
With these and few other Google analytics; one can easily develop perfect result oriented digital campaigns that are bound to succeed.
So, what are your views about this blog post? Did it offer you any kind of benefits? If yes, then please do share with us and if no, then let us know what problems you faced. This will help online marketers to work in a better way.
Get in touch with Platinum SEO; a well known local SEO in Melbourne.