If we see around slowly conventional advertising is reducing by leaps and bounds. Social media is a way that boosts the brand presence. It has convinced most of the brands to adopt content marketing.
Companies are now considering themselves more as publishers instead of just mere advertisers. This helps them to showcase their brands to the customers. These have started to perform the role of content creators.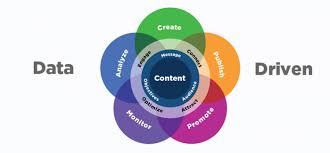 Data Journalism is what they must bear in mind when it comes to content marketing. This is the new way to get the data, it increases the chances of getting data sets as well as various data analysis tools which will be used to reveal the stories and increase awareness.
Various well known newspapers have started making maximum use of data journalism because these seem to find opportunities in the huge data world. These data based stories get maximum attention from social media users.
Fresh data as well as infographics used on various social media sites like as Twitter, Facebook and many more is successful in spreading the awareness as well as revealing complete stories in a very concise manner that appeals users.
Talking about Infographics, these have now become a standard part of corporate communications toolkit. Several data visualizations originated from the real data have a lot of difference. If we see at Pinterest then we will get many of the corporate infographics in the form of blog posts.
How Data can serve as a Perfect Means of Content Marketing?
Now, the question is how every content marketing strategy can make most use of data or how data can serve the purpose and what benefit a business can get using content marketing?
Traffic: One of the widely used forms of data is infographics which are easily shared on various social media sites. Creating data visualizations which provide real value to the readers is a very good way to share your ideas and message as well as to get maximum traffic on your site.Data visualization has the power to keep the audience glued especially if the report has an amazing title. A perfect post title will help your post to be frequently visible among search results.
Value: When brands are recognized as publishers then there's an increase in the amount of unwanted content on the internet. Some of the content really is so pathetic that you won't feel the urge to read it or see it.You must stand different from the crowd. Your data must contain up to date releases, latest news, special offers and more instead of that old blog post content. If your intention is to render proper value then your website must share fresh and relevant content which really has some worth.
Prestige: Analyzing the data and sharing it especially when it is not shared before establishes the reputation of your brand. If you can share any infographic which showcases a complete set of market trends then such reports can make you popular.This may lead to the media attention as well as interview requests. However, the report itself shows the expertise of the company. For B2B companies; displaying their expertise is the main aim of their content marketing which is accomplished very effectively.
Knowledge: In this competitive world, it is necessary to stay updated with the latest trends hence many businesses need sufficient strength when the need arises to use analytics internally.However, once you start sharing the metrics externally chances are there of getting completely new perspective. If you get one page from open data and then release some of your data in such way that it can be used by other people for analysis then they may get something amazing that you may not even have wondered of.
Transparency: Be as clear as possible when you take personal information from your customers. With the use of data driven content; it is possible to reveal what and where the client's information is being used.This transparency develops trust and supports customers to easily solve their issues. By analyzing the data which keeps the confidentiality of the customer data; one can have insight about the patterns that are shown through the collection of the data which makes customers understand how their data can be used.
Wind Up:
Hence, make most use of data driven content marketing to increase the website traffic as well as provide value to the customers. For more such updates, stay tuned with Platinum SEO; SEO Experts in Melbourne.