Everywhere we can see that social media is adopted quickly by people for marketing purposes. During the last few years, the number of users and platforms has increased. We can see the Facebook users increasing to an extent.
Twitter has now nearly 236 million active users while mobile photo sharing app Instagram has got 300 million plus users till December 2014. For mobile marketers this is a very unique opportunity as this will increase the users using social media via their smart phones.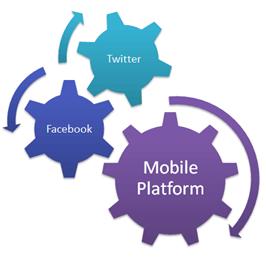 How mobile marketing can be benefitted from Social Media?
Social media is an amazing place for developing SMS opt in list. One can promote short codes as well as keywords with various social media campaigns so boost engagement from the followers all over the online platforms.
For potential subscribers, it becomes very easy to sign up as they are already using their social media accounts via their smart phones. If you have any message then you must get across all of the customers irrespective of the platform they are using.
One can use Messenger's social links for posting message on social media among social networks on the same time as soon as you send the text. Once you are connected with social profiles then one can make sure to see enormous people viewing your message as quickly as possible.
Yes Social Media is awesome so why to opt for SMS?
Social media is awesome and so is SMS which means Short message service. Nearly 90% of people today are using Social media and the users are still increasing, however this doesn't mean that other marketing channels are to be disregarded.
Mostly people who are active on social media platforms have smart phones through which they can easily access Social media. If you see then 30% of tweets and 15% of Facebook posts are read where as if we talk about messages then 80% of these are read completely.
This shows that even today SMS is considered to be a popular way to market your product or service as compared to other social media networks like as Facebook or Twitter. So, even today if you wish to market your product then SMS can be an effective way to do so.
An easy way to combine both social media as well as text message to promote brands in an effective manner is to develop a big integrated well framed campaign which can be used to make huge promotions for your brand.
One tool can be used as a combination with another to achieve success and so it is necessary to develop a perfect message for your brand promotion as well as for your social activities.
Wind up:
So, if you are really willing to spread the word for your brand then you can use both SMS as well as social networks. To make most use of social networking campaigns , stay connected with Platinum SEO, SEO Company in Adelaide.